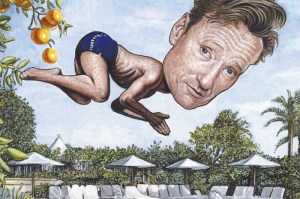 On the afternoon of Tuesday, May 19, Mike Sweeney, the head writer for Conan O'Brien, was sitting on a park bench in Central Park. He hadn't been back in town since he and the staff of the show moved out west in February to take possession of the Universal City studio where, as of June 1, they'll be filming The Tonight Show with Mr. O'Brien as host.
He'd earned this break after spending the morning hustling for his network at the television industry's upfront presentation for advertisers.
"Some of our writers got lost in Kansas," said Mr. Sweeney. "We're doing the best we can without them. No ETA. But the others have made it."
On June 1, Mr. O'Brien will debut as the new host of NBC's Tonight Show. And since February, the majority of his New York staff has relocated to Los Angeles, where NBC is currently putting the finishing touches on a new Tonight Show theater. It's housed in Stage One of Universal Studios, the original home of The Jack Benny Show and the home, for a time, of Knight Rider.
Mr. Sweeney said he surprised himself by weaning himself so quickly from the New York Post after arriving in L.A. Instead, he was reading a history of the city's Griffith Park.
In 1937, a monkey had gotten loose in the park and caused an uproar when it got stuck in one of the observatory's dioramas. For a comedy writer about to embark on a new mission in a new town, the precedent of runaway monkeys seemed to bode well for the future.
"We're right on a movie lot!" he added of his team's new Universal City digs. "We have our own crew there. It's all self-contained. You go out and you're on the way to the parking deck and a tourist tram goes driving buy. You feel like you should do something to entertain them. You want them to get their money's worth. It's a lot of pressure."
Mr. O'Brien's done this before: His first job after college was in L.A., writing for HBO's Not Necessarily the News. But the Massachusetts native and Harvard alum, who from 1993 to 2009 hosted more than 2,000 episodes of NBC's Late Night from a studio at 30 Rockefeller Plaza, is fundamentally a creature of the East Coast. Here, we have comedy: cerebral, structural, neurotic. Out there in the "entertainment factory," it's all razzle-dazzle, bouncy punch lines and soothing potted palms.
In recent months, Mr. O'Brien's developed something of a Los Angeles routine.
"I'm incapable of tanning," he's grown fond of pointing out to reporters. And: "I'm genetically engineered to live in a bog in Northern Ireland. And: "I think that I'm going to be wearing a lot of floppy hats." And: "We're going to have a lot of segments where a dermatologist comes out and checks me." And: "I'm going to have a ton of plastic surgery, and you're not going to recognize me." And: "My death from sun rays will be blown way out of proportion in the news."
His answers are both literally and figuratively skin-deep. Which is perhaps a telling preoccupation for a man about to undergo a major public moulting. To thrive in his new job, Mr. O'Brien will likely have to shed a couple of layers of his after-midnight edginess and reemerge as a softer, fuzzier figure more easily digestible to a general, 11:30 p.m. audience, and their broader, gummy tastes.
Such a transformation—in addition to the cross-country relocation—would be a trial for any comic. To judge by the breeziness of his answers, Mr. O'Brien is probably hoping that the transplantation will take hold most effectively in the absence of the disrupting force of deep analysis. "The biggest danger to me right now would be overthinking," Mr. O'Brien recently told Parade magazine.
It's a sentiment that for much of 20th-century American history served as a battle cry for any creative intellectual leaving New York for L.A. Finally, a sunny refuge from the dark, dreary perils of overthinking!
"We're all excited to be out there," said Mr. Sweeney. "You have new stuff to think about."
Annie Hall Rejectionists
In 1977, Woody Allen delivered the seminal sendup of a New York comedian pondering an escape to Hollywood. In Annie Hall, Mr. Allen portrayed L.A. as a effortless wonderland of mindless marketing babble, bad architecture and alfalfa sprouts, where the measure of a man was whether he gave good meetings. L.A. was, in Mr. Allen's estimation, a land for intellectual escapists such as Rob, the expat New York actor (played by Tony Roberts) who happily traded in Shakespeare in the Park for a shot at a ménage-à-trois with 16-year-old twins and the reliability of computer-generated laughter.
"There are a lot of people in Brooklyn who still tout the Annie Hall line, of, you know, 'No to L.A. at all costs!" said Mr. Sweeney. "But I don't ever want to sound like a cranky New Yorker. I don't feel that way. I like L.A. a lot. I just like cities. If you sent me to Wilmington, Delaware, I'd spend a couple of years digging into the world there. I find L.A. very stimulating, the same way New York was. I'm an Annie Hall rejectionist."
One of the supposed pitfalls of L.A. for refugee New Yorkers is that underthinking can become its own kind of peril. One that might be particularly hazardous for Mr. O'Brien, the ultimate brainy Harvard Lampoon-er, fresh to L.A. and gearing up to succeed Jay Leno.
After all, Mr. Leno himself had once been an edgy, mind-buckling comic like Mr. O'Brien. Then he took over The Tonight Show, and transformed into the corny state-fair comic, the balmy California joker, the antidote to Mr. Letterman and his dark New Yorkiness.
Soft intellectual palatability is baked into the Tonight Show brand. "The fact is that TV is probably not the ideal place to discuss serious issues," Johnny Carson once told The New Yorker. "It's much better to read about them." (No doubt, there were many moments during the 2008 presidential campaign when John McCain wished that Mr. Letterman had gotten that memo.)
It's been some 37 years since Mr. Carson made his own cross-country transplantation, moving The Tonight Show from Rockefeller Center to a studio in Burbank—a move that, at the time, was seen as the final deathblow to New York's long-standing claim as the center of live TV in America. But by almost any measure, the move was an amazing success both for Mr. Carson and for NBC. Which is not to say that some things weren't jettisoned along the way. Ed McMahon lost his wife in the move. And Mr. Carson traded in his outsider's perch for the spot in the heart of the Hollywood clubhouse.
So how will Mr. O'Brien and his comedy crew overcome the single-mindedness of L.A.?
Comedian Greg Fitzsimmons, who has performed extensively and written for comedy shows in both cities, predicts that Conan's writers will struggle making the transition to L.A.
"Your life becomes about your family more in L.A." said Mr. Fitzsimmons. "In New York, someone like [Conan writer] Brian Kiley will still go out and do a set after work at the Comedy Cellar. You can't really do that when you're working in Burbank, and the clubs are in Hollywood, and your house is in the Valley. It's just not going to happen.
"I can tell you from experience it's harder to get spots and its harder to pull them off in L.A," he added. "That part of them won't be fed. And then the interaction that comes with being in a club won't be fed. So it's going to be a challenge.
"Every show, every sitcom I've written on in L.A., I get in my car, I put Sirius on and I get in line with all the other shmucks," said Mr. Fitzsimmons. "And I don't have a thought for 50 minutes until I get there. That's how you prepare for work in those two cities."
Mr. Sweeney downplayed the differences. "I've met people from all walks of life," he said. "There's a lot of history and culture out there if you want to find it."
He said that once the show gets started, he thinks the day-to-day schedule will be similar to what the team did in New York. "It will be skewed earlier in the day because of the time difference, and because the show will be on an hour earlier," he said. "And also people lose time getting their cars washed."