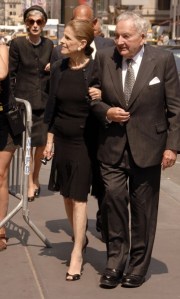 "I knew I should have listened to that man; he told me you're not my friend," the late Brooke Astor told her close friend Annette de la Renta during a walk in Central Park sometime in 2001 or 2002.
Ms. Astor had just dropped the leashes for her two dogs, Boysie and Girlsie, leaving Ms. de la Renta to scramble up the hill and recover them. When Ms. de la Renta refused to give the leashes back to Ms. Astor, the late philanthropist denied their friendship. "She kept on saying to me, 'The man says you're not my friend,'" Ms. de la Renta testified in Manhattan Supreme Court on Wednesday afternoon, May 6.
Later that evening, Ms. de la Renta received a pearl lariat from Ms. Astor and a note of apology. The episode conflicted with several hand-written notes from Ms. Astor over the years, calling her "my darling, Annette," and declaring her "like a daughter to me."
Ms. de la Renta testified about several instances of her close friend's mental decline. When she called Ms. Astor to tell her about the attacks on September 11, 2001, "she didn't understand what I was talking about."
Prosecutors continue to make their case that the late Astor was severely senile by the time she rewrote her will in 2004, rerouting some $60 million previously earmarked for charity to her only son, Anthony Marshall, who now stands charged with conspiracy and grand larceny in an alleged plot to take advantage of his mother's frail condition and loot her vast fortune.
On Wednesday, prosecutors also showed the jury a photo album from Mrs. Astor's 100th birthday party, which Ms. de la Renta had annotated with post-it notes for each guest. "She kept on saying, 'Who is that? Who is that?' so I put the names on and that made it easier," Ms. de la Renta said.
Jurors also saw, for the first time, the interior of Ms. Astor's famed apartment at 778 Park Avenue, and the spot over the library mantle where Mrs. Astor's beloved Childe Hassam painting was replaced by a portrait of her father.
But the apartment seemed to have mirrored Ms. Astor's own decline. By 2003, "it wasn't as fresh as it had been," Ms. de la Renta testified. "It was getting to look a little bit sad."
At one point, the staff asked Ms. de la Renta to buy an air purifier for the apartment, which she did.
Ms. de la Renta also attended a meeting organized by David Rockefeller to implore Mr. Marshall and his wife, Charlene Marshall, to re-open Ms. Astor's Westchester getaway Holly Hill, after the couple shuttered the property in 2005.
The properties were to have gone to Mr. Marshall. "She said she was leaving to her son, Anthony Marshall, all the properties," Ms. de la Renta testified. "She had a naughty wink in her eye and she said he'd be paying the taxes."
Ms. de la Renta took the stand in a cream dress with a beige sweater. "Are you nervous?" asked Assistant District Attorney Elizabeth Loewy.
"Yes, very," Ms. de la Renta admitted with a pursed smile to the jury.
Her testimony was marked by a myriad of objections from the defense, and, by the end of the afternoon, Ms. de la Renta was noticeably scowling at each interruption and repeated requests from the defense that parts of her testimony should be stricken from the record.
After Ms. de la Renta left the stand, defense attorney Ken Fisher suggested perhaps tomorrow she could bring in, or wear, the gold necklace and earrings that Ms. Astor had given her. Slightly baffled, Judge A. Kirke Bartley, Jr. denied the request.