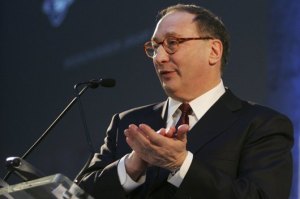 Developer Bruce Ratner has won another victory in his undying attempt to bring the Nets to Brooklyn as part of the $4 billion mixed-use project, Atlantic Yards. In a decision posted online on Friday, landowners and tenants were rebuffed by the state appellate court in a case that contested the use of eminent domain for the project (the case was against New York State, not Mr. Ratner himself).
The favorable court decision narrows the legal options for opponents of the project, who have successfully delayed it through the courts to a point where the entire project's financial viability is now in question amid the broader economic crisis.
Following the decision, the landowners and tenants on the suit will likely attempt to get a hearing before the state's highest court, the Court of Appeals. It's unclear how long it would take to make a decision on whether or not to hear the case, though decisions to hear cases normally come in a matter of weeks.
Of course, at this point a court victory for Mr. Ratner's Forest City Ratner is nothing surprising, as it has defeated numerous legal challenges contested in both federal and state court, which have been appealed repeatedly. But more than anything else, the decision amplifies the ticking clock for critics and opponents, as Forest City needs to complete the deal with the state for the project by the end of the year in order to qualify for tax-exempt financing on the Nets arena (without the tax-free financing, its cost would rise substantially, further placing into doubt the project's viability).
With the eminent domain case pending, officials and Forest City have been unable to close the deal for the land—much of the project site is above a set of M.T.A.-owned rail yards—and to sell bonds to finance construction of the arena. Forest City also needs to present a new design for its arena and likely gain approval from the state's development agency to move ahead with the modified plans.
Update: 1:35 p.m.
The ruling will indeed be appealed, landowners and tenants are vowing. Here's a statement from Develop Don't Destroy Brooklyn attorney Matthew Brinckerhoff:
We have the right to appeal directly to the State's highest court, the Court of Appeals, which we will do, so that Court can determine that the New York Constitution's Public Use Clause provides greater protection to its citizens than the federal constitution.

ebrown@observer.com