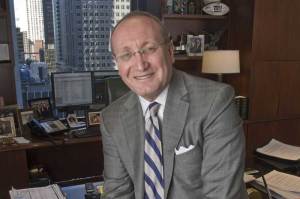 At 2:37 p.m. on Tuesday, Bruce Mosler, president and CEO of brokerage Cushman & Wakefield, and Carlo Sant'Albano, of the Agnelli family holding company Exor, which owns a majority stake in the brokerage, sent an email to company employees seeking to quash rumors of an impending ownership change.
"It has come to the attention of senior management that there is presently a considerable amount of rumor and speculation circulating pertaining to potential merger and acquisition activity involving Cushman & Wakefield," read the missive.
"We assure you that any rumor of this nature is completely false and under normal circumstances would not justify a response. However, because of the pervasive nature of the rumors and the wide speculation, we felt it important to set the record straight and to share with our employees the facts about our business and the outlook for Cushman & Wakefield. Cushman & Wakefield has not initiated or participated in any merger or acquisition discussions nor are there plans to enter into such discussions."
Over the past few months, brokers have gossiped at length—as is their wont—about a potential buyout of Cushman & Wakefield by rival Jones Lang LaSalle. Highly placed sources at JLL denied such rumors. And while the email from Messrs. Mosler and Sant'Albano did not mention JLL by name, the intent of the email was clearly the same.
Referring to the Agnellis, who also own Fiat and have made some recent American auto acquisitions of note, the email continued: "Our majority shareholder Exor acquired roughly 67.5 percent of Cushman & Wakefield in 2007. The firm's management and employees retain ownership of the minority interest. Contrary to speculation, Exor has increased its stake in the firm and today holds approximately a 72 percent stake.
"The marketplace will always lend itself to rumors and it's not hard to determine why competitors would want to cast doubt in the minds of prospects and employees regarding the future of one of the leading firms in the sector."
drubinstein@observer.com