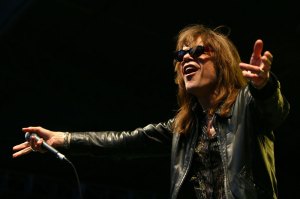 On Tuesday, May 5, the John Varvatos boutique at 315 Bowery was perhaps the only nightspot on all of the Lower East Side where someone in his late '20s or early '30s might actually feel young.
Like, really young. Slightly-out-of-place-because-he-does-not-yet-have-any-gray-hair young.
Not that this was a bad thing, especially considering the reason for this demographic role-reversal was a rare and intimate appearance by the legendary New York Dolls, who took the stage around 9:45 p.m. in what was once the equally legendary Bowery punk club, CBGB.
"Oh, this is beautiful!" said singer David Johansen, who emerged before a wall-to-wall crowd in a snug black blazer and skintight jeans, with a silky leopard print scarf draped around his neck, and who, along with guitarist Syl Sylvain, is one of the band's two surviving original members. (Guitarist Johnny Thunders died a mysterious, drug-related death in 1991; Jerry Nolan, the band's second and longest-running drummer, suffered a stroke in 1992; and bassist Arthur "Killer" Kane passed away from leukemia just weeks after the British singer Morrissey reunited the Dolls for a concert in London in June 2004.)
"This is beyond my wildest dreams," the rail-thin Mr. Johansen continued a few songs later. "Did you hear that shit? That was good. Let's dance to this next one!"
To the disappointment of some in the audience, almost all the songs played during the roughly 45-minute set were new, save a half-blazing, half reggae-esque version of the classic Dolls' anthem "Trash" during the encore. But the performance was, after all, a record release party for the band's new disc, 'Cause I Sez So, as well as the launch of Mr. Varvatos' new rock 'n' roll show on Sirius Radio, which was broadcast live.
Mr. Varvatos, a die-hard rock fan who said he'd seen hundreds of shows at CBGB over the years (he also mentioned that he first saw the Dolls in Michigan in 1972 at the age of 16) has tried to keep the spirit of the original club alive since opening his boutique in the former hard rock spot just a year ago. Much of the grime that characterized the old CBGB—stickers, show flyers, graffiti, even cracks and smoke damage—remains intact. And Mr. Varvatos has been hosting regular concerts there, including performances by Joan Jett, Blondie's Clem Burke and Wayne Kramer of the MC5.
Of course, not everyone is pleased with Mr. Varvatos' presence on the onetime skid row, not least of all some neighborhood activists, who associate his store with the dreaded G-word. But speaking to the Daily Transom backstage about an hour before the Dolls went on, dressed in a military-band-style jacket, black jeans and a "315 Bowery" T-shirt, all of his own design, the 54-year-old designer didn't seem fazed.
"I think, since we've opened, people have come to see the reality that we're doing something good here," he said. "We're still bringing live music to the Bowery. It's always free. We're putting our profits back into supporting the music scene in New York. And the Dolls called us. They wanted to come back to their roots, back to the Bowery, and do something fun."
Standing nearby with a tall boy of Pabst Blue Ribbon in her right hand was America's Next Top Model winner–turned–Oxygen reality show host Carrie Dee English. Turns out she is a massive fan.
"I mean, they started the whole glam rock scene and that's why I love them," gushed Ms. English, who confessed to also being a fan of Mr. Johansen's short-lived wonky alter ego, Buster Poindexter.
"I'm an '80s child!" she said.
Also spotted in the crowd were Mr. Varvatos' fellow rock 'n' roll designers Michael H. (Tommy Hilfiger's adopted younger brother) and former Project Runway contestant Kevin Christiana, Richard "Handsome Dick" Manitoba of the Dolls' proto-punk counterparts, the Dictators, and the famed 63-year-old rock 'n' roll photographer Leee Black Childers, who politely declined to comment when the Daily Transom approached him near the bar.
But it was O.K., because we'd already talked to another famed rock 'n' roll photographer earlier in the evening—Bob Gruen!
Mr. Gruen, a longtime friend of the band's, shot dozens of hours of New York Dolls footage in the early '70s, which was later edited into a documentary. We wondered if he was just as excited to see the band more than three decades later.
"Life goes on and things change, but David's the best entertainer around and the band is one of the best out there," he said. "I don't live in the past, and I don't think the Dolls do either."