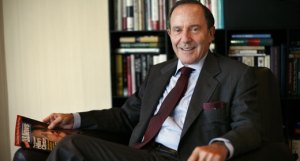 On Sept. 26, 2007, the second episode of Kitchen Nightmare's season aired on Fox. Against a New York skyline, a deep voice intoned: "Tonight on Kitchen Nightmares: New York City may be the Mecca of fine dining, but in the heart of Manhattan is a restaurant in such bad shape it may prove to be Gordon's biggest challenge yet."
Cut to Gordon Ramsay, face contorted in horror: "Oh my God! What do we need, a death in the restaurant before bleep gets a grip?"
Fear not! Mr. Ramsay and crew transformed the South Asian joint, Purnima Restaurant at 243-245 West 54th Street, into a gastronomic gem.
Business jumped "big time," according to Mohammad Islam, the restaurant's owner. When Purnima's former manager, the fall guy in the Ramsay episode, unsuccessfully sued to stop its airing, the publicity only increased.
But then Mort Zuckerman moved in next door; the back wall cracked; and Mr. Islam did, too.
He's suing real estate lords Mr. Zuckerman and Joseph Moinian: the former for inflicting collateral damage during the foundation work for a 39-story office tower next door, and the latter for failing to properly care for the building in which the restaurateur leases, according to a lawsuit filed on May 6 in Manhattan Supreme Court.
More precisely, Mr. Islam accuses the defendants, which include Mr. Zuckerman's Boston Properties, landlord the Moinian Group and contractor Bovis Lend Lease, of cracking his restaurant's interior and exterior walls; undermining the rear support of the building; damaging the roof and bathroom; causing an invasion of dirt and vermin; and creating such strong vibrations that customers left, "never to return." He wants at least $600,000 in damages.
Mr. Islam said the trouble began in 2007, when preparatory construction began for Boston Properties' planned 1 million–square–foot, $1 billion, Skidmore, Owings & Merrill–designed, 39-story scraper at 250 West 55th Street.
Business began to suffer. Mr. Islam says a more-than-inch-wide crack developed from the floor to the ceiling of the back wall. When it rained, the premises flooded. Homeless people set up camp under the scaffolding outside. Reservations were canceled.
The Buildings Department issued stop-work orders for construction near the building on Dec. 4, Dec. 10 and, most recently, on Jan. 27, citing "building shaking/vibrating/struct stability affected."
About a month ago, in the back lounge, a performer tripped onstage, apparently made unstable due to the construction. On April 22, Mr. Islam said, "Enough is enough."
Now he's looking for a new space in midtown.
Meanwhile, on Feb. 6, Boston Properties announced that it was, for economic reasons, temporarily suspending construction of the office tower.
None of the defendants would comment for this story (and Gordon Ramsay couldn't be reached). David Pfeffer, Mr. Islam's attorney, said that he has yet to receive a response to his legal complaint.
But he noted, "This really is David v. Goliath."
drubinstein@observer.com