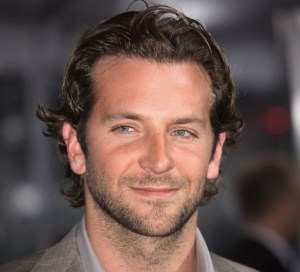 Do you remember the first time you became aware of Bradley Cooper? I sure do. It was sometime during the first episode of Alias, circa 2001, and Mr. Cooper played Will Tippen, best friend to Jennifer Garner's Sydney Briscow. What I remember is being distracted from the increasingly complicated plot by the fact that an actor as handsome as he had been cast in the dreaded "best guy friend" role. Come on! Like a guy like that would ever wait around for Jennifer Garner to dump dreamy French-speaking Michael Vartan? (Don't even get me started on the Vartan.) Maybe if he was sleeping with four or seven of her closest friends. Maybe.
And so, I'm quite pleased to see that Bradley Cooper is playing the roles that I think he should be contractually obligated to play, namely the cad. The rake! The irresistible rapscallion! In He's Just Not That Into You, he played the feckless husband who lied about smoking and how much he wanted to get into Scarlett Johansson's pants. Believable! In next week's very (very) funny The Hangover (look for an official review next week), Mr. Cooper plays that guy—you know the one—who has all the smooth-talkin' answers. He's got the McDreamy-like hair, he has the button-up shirt buttoned just so, and those freaky snake-charmy blue eyes that promise you nothing but trouble. The whiny guy who loses the girl to Owen Wilson in Wedding Crashers? I think not. But a guy who wakes up in a trashed penthouse in Vegas with chickens and tigers but no memory of the night before but still looks kind of scruffy hot? Yes, please.
Perhaps the larger point should be made that just like life, Hollywood, too, has to obey the line between "regular-person hot" and "movie-star hot," even when they are all movie stars. Can you imagine Brad Pitt or Robert Redford or George Clooney or Paul Newman cast as the overlooked guy next door? Of course not! Tom Hanks, you bet. Paul Rudd, sure thing. Which is where Mr. Cooper (who, for all we know, is a freakin' saint in his personal life) must remember his responsibilities going forward. Being a bastard just looks good on him. And since he is a good actor, in fact, I see nothing wrong with him getting everything that would have maybe gone to the Matthew McConaughey of yore (A Time to Kill) before he became today's Ghosts of Girlfriends Past McConaughey. Just remember, Mr. Cooper, no Fool's Gold, please.