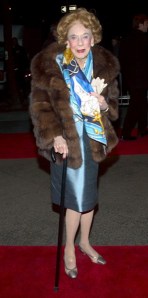 "You like being on stage, don't you?" defense attorney Fred Hafetz asked. "And you want to be center stage in this case, don't you?"
Naomi Packard-Koot, the former social secretary for the late philanthropist and socialite Brooke Astor, had calmly chewed her gum all morning, but she nearly rose from her seat at Mr. Hafetz's pointed suggestion.
"Look, this is very difficult for me," said Ms. Packard-Koot, dressed in a black dress and jacket.
She had come all the way from the Netherlands, dragging along her one-and-a-half-year-old son, to testify in the trial of Ms. Astor's son, Anthony Marshall, who stands accused of conspiracy and grand larcery in an alleged scheme to trick his confused centenarian mother into altering her will for his own financial benefit.
It was the climax of a contentious cross-examination that lasted throughout Thursday morning.
Mr. Hafetz seized on the fact that Ms. Packard-Koot had held a variety of jobs–firefighter, financial analyst, public relations, freelance writer, and actress–before she was hired by Ms. Astor in March of 2002, and highlighted an answer that had drawn several laughs the day before.
Ms. Packard-Koot was asked to explain a run-in she had with police in college; she said she happened to make prank calls in Hungarian at the same time a "marauding band of gypsies" was terrorizing Princeton University.
Mr. Hafetz repeated the quote and asked: "You have a flair for the dramatic, don't you?"
The drama between he and Ms. Packard-Koot seemed to include nearly every question throughout the morning. Mr. Hafetz repeatedly asked Ms. Packard-Koot for a simple yes or no answer on points where she felt the need to offer more context.
On her accepting a handbag from Ms. Astor:
"Did you leave with a handbag? Yes or no?" Mr. Hafetz asked.
"After many refusals, yes," Ms. Packard-Koot replied.
"My question is, did you leave with a handbag? Is the answer to that yes?" Mr. Hafetz repeated with his voice raised.
Ms. Packard-Koot paused long enough for an icy glare.
"Yes," she replied.
On a conversation she had with Christie's about the possible sale of some of Ms. Astor's artwork:
"I wouldn't call it a discussion," Ms. Packard-Koot told the jury.
"Would you say words were used?" Mr. Hafetz asked sarcastically.
Later, that approach seemed to backfire, when he inquired about a conversation Ms. Packard-Koot had with Ms. Astor, shortly before her firing in May 2003.
When Ms. Packard-Koot qualified a point about the lunch, in which Ms. Astor told several "fascinating" stories from her personal history, Mr. Hafetz asked her if it took place in English.
"Well, when she talked about her first husband who hit her, she would make gestures with her hands," Ms. Packard-Koot replied.
Throughout the contentious cross-examination, Mr. Hafetz cast doubt on another conversation Ms. Packard-Koot had previously recounted, in which Mr. Marshall said his mother's beloved Childe Hassam painting had been sold so Ms. Astor could buy dresses. Mr. Hafetz suggested the comment was simply a joke. He pointed out that Ms. Packard-Koot had characterized the conversation as upbeat.
He also questioned why Mr. Marshall would confide in Ms. Packard-Koot about whether Ms. Astor was fit to change her will, as she had testified the day before. Mr. Hafetz wondered why that anecdote was not included in earlier interviews with the state's attorneys, nor in a 25-page follow-up e-mail sent by Ms. Packard-Koot.
"Do you have an agenda here today?" he asked at one point.
"No, I don't," Ms. Packard-Koot replied.