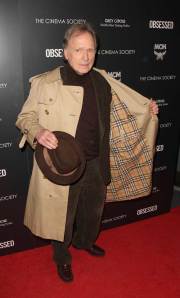 Dick Cavett, a talk show host so winningly droll and cerebral that Nixon wanted to find a way to hurt him and Charles Bukowski said going on a rival's show would be like "swallowing your own vomit," doesn't have Letterman-size real estate tastes.
Late last year, he sold 76.8 acres in Montauk to New York State, Suffolk County and the Town of East Hampton for the relatively low sum of $18 million, even though Mr. Cavett's appraisal had come in 33 percent higher. (On the bright side, he kept the acres that house his 14-room, 1880s, Stanford White–designed shingle cottage, Tick Hall, which was meticulously rebuilt after a 1997 fire left only a blackened brick chimney.)
The 72-year-old has long been renting Woody Allen's old six-room duplex in a brownstone on East 79th Street, which Mr. Cavett once said looked like the Athenaeum Club, only unfurnished. "Foolishly," he explained Tuesday, "I had friends who didn't encourage me to own an apartment way back."
But Mr. Cavett is now a Manhattan homeowner. According to city records, last month he paid $4.2 million for a seven-room apartment at the 101-year-old Kenilworth at Central Park West and West 75th Street. If the Beresford has turned into a castle where folks like Vikram Pandit and Bill Ackman have $26 million sprawls, and at the Majestic Conan O'Brien has a two-unit penthouse whose floor plan lists a "master chamber" and "boudoir," the Kenilworth is scrumptious but low-key.
Mr. Cavett lived in the neighborhood after college, when he didn't mind roach-infested apartments because he was near idols like Basil Rathbone. "One day he got arrested before my eyes as I was chatting him up in Central Park," he said. Mr. Rathbone's dog, Ginger, was off the leash. "He said to me, 'I'm in the wrong, of course.' There was Sherlock Holmes telling me he was in the wrong."
Karen Kelley, Mr. Cavett's broker, and listing agents Dan Douglas and Eileen LaMorte, all at Corcoran, had no comment. But according to the listing, which should be given to future scholars of Upper West Side vocabulary and mores, the three-bedroom apartment has a "repertoire of stunning early 20th Century detail," a renovation marked by "a perfect balance of panache and logic," "lovely patterned floors with marquetry borders," "an impressive ambience," "superb handmade cabinetry," "dazzling wood paneling" and one maid's room, which could be used as "the consummate home office."
"Elevated language," Mr. Cavett said about the listing, "but it is a superb place."
mabelson@observer.com