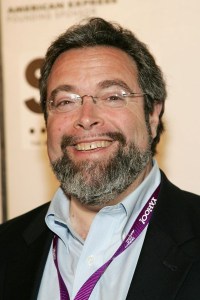 Jovial restaurateur Drew Nieporent stood outside of Lincoln Center's Avery Fisher Hall on Monday evening, May 4, holding an umbrella in one hand and a smoldering stogie in the other.
A Cuban? Never! "You're too young to remember, but Ken Aretsky almost went to prison for that!" Mr. Nieporent said, referring to the proprietor of midtown's Patroon whose well-stocked humidor was raided by customs agents back in 1998.
"[Publicist] Jennifer Baum has arranged for so many of my peeps to be interviewed over there, I have to smoke," Mr. Nieporent explained, pointing to a tented red carpet area, where fellow culinary heavyweights Daniel Boulud, Jacques Pepin, and a George Hamilton-level tanned Stephen Starr, among others, were lined up for photos and interviews before the start of the 2009 James Beard Foundation Awards.
"This is not the Tribeca Film Festival!" Mr. Nieporent shouted. "One at a time!"
Hosted this year by the actor Stanley Tucci, co-star of the upcoming Julia Child biopic Julie & Julia, the annual Oscars of food invariably draws an eclectic mix of young attractive publicists in slinky gowns and lots of older fat guys in suits–and at least one wearing overalls and a Paul Reubens-style red bowtie. Chef Mario Batali showed up in a tux and bright, traffic-cone orange Crocs.
"I love this event," said the dapperly dressed Mr. Nieporent, sporting a pink bowtie and yet another (perhaps celebratory) cigar, still wrapped in plastic, protruding from his breast pocket. "It's really the only time that the industry allows us to self-promote on such a large scale. So why not? Fashion does it, movies do it."
There are those who take issue with the self-promotion. Fellow restaurateur Keith McNally, for one, previously denounced the flashy ceremony as "ludicrous." The eccentric operator of Pastis, Balthazar, and the newly refurbished Minetta Tavern, didn't show up for this year's awards, despite his nomination for outstanding restaurateur.
"I've paid off a few of the judges so I'm probably a shoo-in at this point. NO!" Mr. McNally told the Transom via email. "Can't be there as I'm working at Minetta Tavern all night. Hope you enjoy it. It's probably more fun than I'm willing to admit."
Competing with Mr. McNally for the foundation's most businessy prize was Mr. Nieporent, who, prior to the ceremony, described it as arguably the most precious. "There's got to be two dozen chef awards," he said. "Chef of the north, chef of the south, chef of the east, chef of the west, rising star, falling star, whatever. There's only one category for restaurateur. One! And the participants in that category, every single one is worthy."
Mr. Nieporent and his Myriad Restaurant Group–who've opened 32 restaurants in 24 years, he noted–have earned numerous James Beard nominations in recent years, though he lamented, "like in the Kentucky Derby, my horse finished last." (He hasn't won since Nobu took outstanding restaurant honors in 1995.)
His newly opened Corton was also in the running this year for best new restaurant, though, from the outset, he pointed to maverick chef David Chang's Momofuku Ko as "the Derby favorite." (Turned out later, he was right.)
Mr. Chang and his self-described band of "young punks" soon arrived in the standard style, aboard a big rented party bus. (Just the single bus this time, not two like last year.) Chef Wylie Dufresne of wd-50 also deboarded the bus, clutching a plastic cup half full of liquid and otherwise stuffed with limes. "Will you sign my ticket?" the mockingly star-struck Mr. Dufresne asked his pal Mr. Chang for an autograph.
A number of other prominent cooks had been invited to board Mr. Chang's bus of debauchery but declined. "I was shocked that he invited us, to be honest," said Scott Conant, whose new eatery Scarpetta was also competing for honors against Mr. Chang's Ko. "I'm here with my son and my wife and I don't know if I want to expose them to the Chang party bus," added Top Chef's Tom Colicchio.
Inside, the awards show would drag on for nearly four hours, as various presenters repeatedly joked about all the food awaiting ravished attendees afterward in the lobby.
"People are so hungry, Lorraine Bracco is biting my ear behind me," quipped Mr. Nieporent, finally taking the stage to accept his long-awaited medalion for outstanding restaurateur at about 9:30 p.m. (The show started at 6.) "Excuse me one second," he told the crowd, "I'm Twittering. Don't you hate that shit? You know, somebody twitted me that, in the time that we've been here, [Nashville restaurateur] Jack Arnold and his wife had another kid."
Mr. Nieporent, who later hosted an after-party at his Midtown spot Nobu 57, had a strange feeling that he was going to win, he said. "You know why? My wife goes to bed very early. The lights were out. I tip-toed to the bed. And, suddenly, I stepped in dog shit–I swear to god! Two dogs! And, I screamed, 'We're going to win!'"