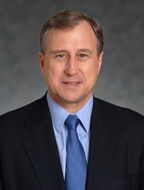 ALBANY—Add another name to the list of potential Republican gubernatorial candidates: Ed Cox.
I'd heard the Manhattan lawyer's name mentioned as a potential candidate for state party chairman—to replace Joe Mondello—but now people close to Cox are saying that he's looking more toward a run for office, and will leave the chairmanship to someone else.
Cox declined to comment.
Several Republican sources who have spoken with Cox say that he's leaning toward the governor's race, but is waiting to for the field of candidates from both parties to become more clear, and may also consider a run against Senator Kirsten Gillibrand. She's perceived as somewhat vulnerable, despite recent successful efforts to scare off primary challengers.
Cox, the son-in-law of Richard Nixon, was the state chair of the McCain campaign last fall. He has been traveling the state, as has Rick Lazio, attending various party dinners and schmoozing with local operatives. On Friday, Cox headlined the Tioga County dinner.
I also heard that Cox was invited to a fund-raiser tomorrow evening for Erie County Executive Chris Collins, but will not attend due to scheduling. Collins, too, has been making increasingly loud noises about his gubernatorial ambitions.
For the most part, any Republican candidacy for governor is contingent upon Rudy Giuliani deciding not to run.