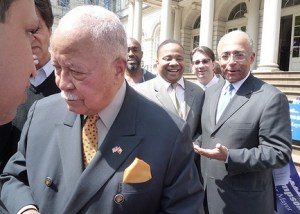 David Paterson is firing (or trying to fire) all 12 members of the Commission on Public Integrity.
Michael Bloomberg's former communications director, Bill Cunningham, has a lot to to say about Anthony Weiner, and none of it good.
As for how Bloomberg spends his money, "voters themselves are responding to the 'level playing field' argument with a collective 'Meh.'"
The mayor has an artsy new campaign mailer.
Four in ten overseas military ballots were not counted in last year's election. Chuck Schumer is already on it.
The B.Q.E. was built to last until 1989. A major renovation will begin in 2020.
U.S. Transportation Secretary Ray LaHood was in town this morning, pushing for construction of the new rail tunnel under the Hudson, and implying significant federal funds will be committed to the project.
The Democrat & Chronicle wants Louise Slaughter to attend tomorrow's meeting about RenSquare, and make clear what she wants.
Mark Green, with his much better name recognition, is way ahead of the competition.
Buffalo also has condominum problems.
It was a mixed day for open government
Christine Quinn praised the Assembly on same-sex marriage and urged the Senate to pass the bill.
Speaking at N.Y.U. graduation today, Hillary Clinton said lots of predictable inspirational stuff and noted that the State Department is hiring.