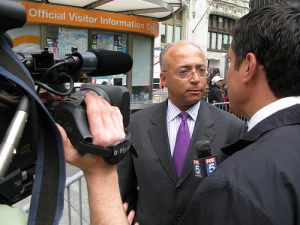 "Something had to be done," Michael Bloomberg said of the M.T.A. plan.
David Yassky thinks the Williamsburg-Greenpoint rezoning has done more good than bad.
The P.B.A. is not opposed to endorsing Bloomberg.
Laying the groundwork for a possible run for statewide office, Tom Suozzi performed "Born to Be Wild" in a tie.
Chuck Schumer is planning to make it mandatory to report a bird flying into a plane.
The arrest of a Nassau County legislator could lead to partisan deadlock.
Here's a flier community groups in Gowanus are posting to inform residents of the Superfund issues.
 A question from Capitol Confidential: between the Yankees and Richard Brodsky, who's the bigger bully?
Maureen Dowd does not really approve of the behavior of either Edwards.