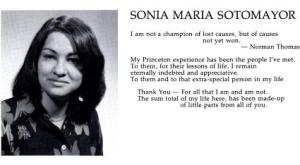 Sonia Sotomayor, who grew up in the Bronx, was at the top of Obama's list of potential Supreme Court nominees from the beginning.
She grew up in the Bronxdale Houses, liked Nancy Drew, and worked for Robert Morgenthau after Yale Law, reports the Times. 
Here's the text of her speech at the press conference.
Chuck Schumer has preemptively warned lawmakers who might oppose her confirmation.
The G.O.P. accidentally sent its talking points on Sotomayor to the media, so here they are.
The roll call for her 1998 confirmation to the federal bench shows that Jeff Sessions, now the ranking Republican on the Senate Judiciary Committee, voted against her.
On one big environmental case, she sided with Riverkeeper, against the E.P.A.
On Gotham Gazette, an executive from Toll Brothers, the firm that is planning to develop the area, argues that the city should clean up the Gowanus Canal because it will address sewage overflow.
An attorney at Riverkeeper argues the canal needs the Superfund designation, in part because it can force polluters to pay.
Liz says that just last week a Queens Democrat was agonizing over which public advocate candidate to endorse.
Rock Hackshaw says Hakeem Jeffries might challenge Ed Towns, and that would be a tougher race than Towns has seen in the last few elections.
A bomb threat was called in to a Long Island courthouse.
A commenter has more on the guy who handed Azi the old New York Post story about Anthony Weiner.
 Two more people died of the flu.
Same-sex marriage is still not legal in California again, but it isn't for lack of protest.
There will also be a rally for same-sex marriage here at 6 p.m., beginning in Sheridan Square.
DLC21 is hosting Kirsten Gillibrand in midtown tomorrow night.