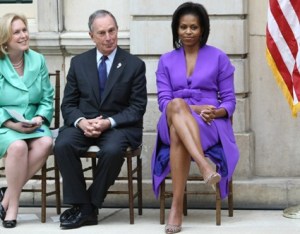 Eliot Spitzer was rude to the Spitzer-investigating I.G. and, by extension, rude about the way David Paterson is running things.
In protest, a number of Staten Islanders paid their $10 tolls in pennies today.
Here, for posterity, is what Scott Stringer had to say about Kirsten Gillibrand's vulnerabilities before he stopped being a potential Senate candidate. 
Bill Thompson would like Andrew Cuomo's rules to be adopted by all the city pension funds.
Chris Lee gets a long, flattering profile in The Buffalo News.
Buffalo Pundit pens a farewell to Tom Golisano.
The Brennan Center praised how Dan Squadron ran the Senate Cities Committe hearing.
According to Curbed, the opposition to the DUMBO Dock Street project is now only a little less star-studded than the opposition to the West Village waste transfer station project.
Numerous groups, like the R.P.A., are formally asking the city to use public funds for infrastructure at the World Trade Center, not for offices.
The city thinks white roofs are more cost-effective than green ones.
The comptroller's Web site now has a feature that shows how subway stations will be affected by the reduction of station agents.
Slightly more than 40 percent of ballots from troops overseas were counted last November. Chuck Schumer is angry.
Because they have stimulus funds, the town of Cheektowaga is considering installing a geothermal heating and cooling system to save money on natural gas.
Tom Scocca is not playing tiny violins for Maureen Dowd.
 Norman Hsu was found guilty.