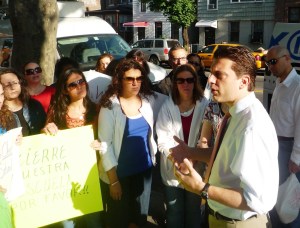 Rick Lazio opened a campaign committee, may run for governor.
The showdown at I.N.D. last night that ended in an endorsement for a non-liberal candidate continues to reverberate.
Greg Ball, who may challenge Representative John Hall, opposes Don't Ask Don't Tell, in the right-wing way.
The Democrat & Chronicle editorial board opposes gay marriage. (via R.T., which does not agree.)
If you hadn't already heard, Meghan McCain supports gay marriage.

City Hall News has a harrowing account of Steve Israel's exchange with Rahm Emanuel.
The Israel camp is denying Emanuel made threats.
David Sirota says Michael Bloomberg "extorted" New Yorkers to pay for the new Yankee stadium.
Tom Ognibene, whom the mayor may support in his race against Liz Crowley, may file a lawsuit against the city.
The city now knows that when no one checks for tickets, people stop paying to ride the bus.
Streetsblog has a "glass half empty" take on Memorial Day.