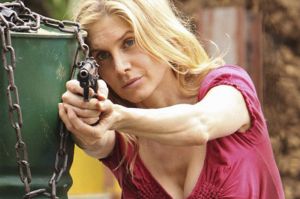 Here are five words we never thought we'd type: Thank goodness for Shonda Rhimes! The talent-deprived showrunner of Grey's Anatomy left us with a doozy of a cliffhanger heading into the summer. Both Izzie (disgruntled actress Katherine Heigl) and George (disgruntled actor T.R. Knight) were left on the precipice of death as last night's season finale drew to a close. Forgetting for a moment that these scenarios had been not only predicted, but expected—all the way back in February, actor James Pickens Jr. said neither Heigl or Knight would be back next season (though that was quickly denounced by Ms. Rhimes)—it was an example of good old fashioned television gymnastics. But as fun as we thought the denouement to Grey's was, it got us thinking: Is it even possible to have a cliffhanger on television anymore?
While thousands of articles have been written about the coming demise of network television and the simultaneous fracturing of the viewing audience, one of the worst epidemics facing television shows in 2009 is a total lack of surprise. Anyone who has visited E! Online or Entertainment Weekly in the last six months knew that Mr. Knight and Ms. Heigl were most likely on their way out of Grey's. As television audiences become more attuned to searching out entertainment news, the conventional ways that stories are told seem more and more obsolete.
To wit: No matter how many cones of silence are erected around the Grey's Anatomy writers room this summer, we'll all know what happens to Izzie and George based on what happens to Ms. Heigl and Mr. Knight—if they return as series regulars for season seven, they'll live; if they don't, they'll die. Talk about letting the air out of the balloon. After J.R. got shot on Dallas, we doubt anyone was scouring websites to see if Larry Hagman was going to hold to his contract for another year.
It's not just Grey's Anatomy either. When Elizabeth Mitchell signed on to the pilot of ABC's sci-fi series V, every Lost fan assumed her character, Juliet, would be the one to die in the season finale. And, lo and behold, as the episode drew to a close, there was Juliet dangling above a deep chasm and falling to her supposed death … only to wake up and heroically detonate a hydrogen bomb, presumably killing her for good. Was this shocking to anyone?
Even on The Office, this problem arises: Amy Ryan, who starred this season in seven episodes as Michael Scott's true love, Holly, made a "surprise" return to Dunder Mifflin last night. But since Ms. Ryan is busy being a working actress, the episode ended without their blissful reunion. Despite having a truly great season finale, any tension that The Office might have been able to build with regards to Michael and Holly was totally dismissed out-of-hand: Ms. Ryan is never going to be a full-time cast member, so her character's love affair with Michael could never last.
We realize that maybe everyone isn't as fluent in these comings and goings as we are, but the fact remains that it has become harder and harder to legitimately surprise the audience. At this point, with Spoiler Culture out of the barn, the question needs to be asked: Should television series' even attempt to end their seasons on cliffhangers anymore? We guess you'll just have to tune in next fall to find out. …