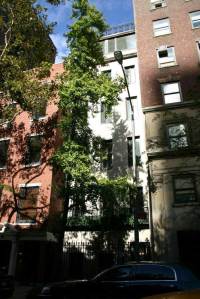 In August, a small article on a financial news Web site reported that hedge fund manager Gad Grieve's multimillion-dollar Finvest Asset Management was going under. "I must state that these suggestions are malicious and untrue," Mr. Grieve said then. "Yesterday, there was a power failure in the block, and staff in our New York office left earlier than usual, at 4 p.m."
Six months later, in February, the Securities and Exchange Commission sued Mr. Grieve for fraud, claiming that he had created two sham firms to certify his purported profits, "both with fictitious employees, phone numbers, websites, email addresses, automated voice messaging systems, and physical office addresses."
Last May, according to city records, Mr. Grieve, who at the time of a mid-'90s Times wedding announcement was a rabbinical candidate at an Israeli yeshiva, paid $11.85 million for a five-bedroom, eight-fireplace limestone townhouse at 113 East 61st Street. A year later, Mr. Grieve, who purchased the house through an anonymous limited liability corporation, has put the 5,700-square-foot house on the market for $12,995,000.
"The building is drop-dead gorgeous. It's been totally wired with fiber-optic cable; there's a security system with cameras everywhere," said Elliman's Laurie Trontz, his listing broker. When this reporter mentioned the S.E.C., she hung up, and in an email later she said the house is owned "by a European investment syndicate." But Mr. Grieve's name is on the deed and mortgage filings.
According to her listing, the seven-story house has a wine cellar in the finished basement, an "English ivy garden," a rooftop terrace, plus a sixth-floor loggia and wet bar. Even if the house sells, it's not clear Mr. Grieve will get a windfall: Paul W. Kisslinger, assistant chief litigation counsel in the S.E.C.'s Enforcement Division, said a U.S. District Court had entered an order of attachment against the house, which is sort of like a lien.
The S.E.C., whose lawsuit asks for, among other things, civil money penalties, does not know where Mr. Grieve is. "No, not exactly," Mr. Kisslinger said. "We believe that he's residing in Israel or South Africa."
In October, the hedge fund manager put the townhouse up for rent with the two Sotheby's brokers who had marketed it when he bought it: "The house currently functions as a turnkey boutique private office," their listing said. His asking rent fell from $60,000 to $45,000 in January; by March, the listing was no longer available.
mabelson@observer.com