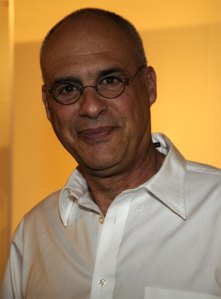 On Saturday, May 2, Naomi Starkman, a food policy media consultant to the Consumers Union and previously media consultant to The New Yorker, Portfolio and Wired, was sitting in a classroom at the Brooklyn Food Conference in Park Slope's John Jay High School explaining how Twitter is one of the best places on the Internet to shame a journalist.
"People are paying attention," said Ms. Starkman, who was speaking at a panel discussion titled "Organizing in the Obama Era: Digital Activism." "One of the benefits I find through Twitter, personally, in dealing with reporters, mainstream media reporters, is that they don't even answer their phones, they may not answer their email, but they will respond to you on Twitter."
She offered the following as an example: On April 8, Tom Phipott, food editor at political blog Grist.org, called out The New York Times' Mark Bittman for posting a recipe in his Minimalist column for citrus salsa made with red snapper, which is considered endangered by the National Oceanic and Atmospheric Administration. "Influential food writers can't force the issue themselves—ultimately, we'll need coordinated government action across the globe—but they have considerable power to point consumers in the right direction," Mr. Phipott wrote. "The time has come to use it."
New York magazine's Daily Intel blog picked up the online kerfuffle, and the conversation also moved onto Twitter. Mr. Bittman's followers linked him to the blog post and asked if he'd respond. Mr. Bittman, wrote a response, and Mr. Phipott's published it. "I'm happy to be called out for that kind of sloppiness, I realize people take my words seriously, I'm glad they do, and I have to write as if that matters," Mr. Bittman wrote. "Look for a bigger piece in the Times addressing these issues in the not-too-distant future."

Ms. Starkman, co-founder of CivilEats.com, credited Mr. Bittman's "fooderati" followers, as she described them, as Twitter activists. "He was publicly shamed," she said. Among seventh graders' drawings of the "water cycle" and announcements for the science fair on the chalkboard, Ms. Starkman and other panelists gave more examples of how food activists have used social networking to motivate political action in front of the computer screen—and beyond.
"The idea of something new and kind of cold as a computer can help us to support ancient agricultural methods and personal choices like what we eat is endlessly fascinating, said Leslie Hatfield, freelance editor of the Green Fork blog and media consultant for New York-based nonprofit program Eat Well. She noted sites like Eatwellguide.org, and Hyperlocavore, a social networking site for gardeners and yardsharers, as powerful resources for Web-savvy food activists, but even sites like Flickr, in which a mother posted pictures of her daughter's school breakfasts, can engage local representatives and start conversations, said Ms. Hatfield.
But any political food organization thinking they just need to start a blog to spread the word shouldn't fire up the Twitter account just yet, according to Ms. Hatfield. "There's no 'Build it and they will come on' the Internet," she said. Ms. Hatfield suggested also taking the message elsewhere. She writes about food issues for the Huffington Post—which is a good practice, according to Natasha Chart, of Change.org's Sustainable Food blog, to give food politics better "brand awareness."
"If we want people to think about food as a political issue, it has to be put out in the spaces beyond the food politics choir," said Ms. Chart, who recommended that food activists write for sites like Daily Kos and promote their blog posts or other news articles that interest them on aggregating sites like Reddit and Digg to reach a wider audience. "One of the reasons why our food systems suck so badly is because people just don't think about it. They don't think about it as a political issue. … There's a political reason why you can't find fresh produce in your neighorhood and why there is corn in absolutely everything." The Internet can spread the word about it, she explained.
"With the Web, anything you can implement locally, you can implement globally," said Winton Wedderburn, a graduate public health student at Hunter College who took on the online campaign to promote the Brooklyn Food Conference itself, which attracted an estimated 3,000 attendees. He mentioned President Obama's online tactics as a primary example of how the "fooderati" can take their messages beyond social networking, which doesn't always work for programs like fund-raising.
"That old fashioned lobbying for better food safety reform—that pounding the pavement to change the laws—will never be replaced by the Internet," said Ms. Starkman. She mentioned the Consumer Union and other organizations' efforts to encourage Kansas Governor Kathleen Sebelius to veto legislation concerning labeling on milk products that include artificial hormones with simple email forms to encourage phone calls. "Most of us are sitting at our desks all day anyhow, you can click on this link and you can inform other people at it as well," Ms. Starkman said.
"She said her reason for vetoing this law, which she eventually did at the eleventh hour, was because she was overwhelmed with emails from constituents. Never in the history of any issue in the history of Kansas had they seen so many emails," Ms. Starkman explained, who added that Ms. Sebelius is President Obama's pick to lead the Department of Health and Human Services.
But emails and tweets won't solve all the food activists' problems. "Internet and emails and tweeting are all really great but you do have to have that connection," she explained. "A lot of those calls, which are personal calls, still really matter [and] sitting in front of your congressman can't be underestimated."