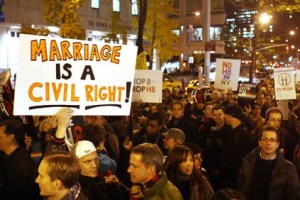 ALBANY—State Senator Bill Perkins is for gay marriage. Most of his constituents in his majority African-American district, if the polling on this issue is any indication, are not.
"There's no question that there are moments, in this case and other cases, where we have that thorny dilemma," Perkins said. "Many of us who are elected to represent a community will have those moments, and our constituents, whether they agree with us or not, want us to do what we believe is the honest thing to do."
He said that he will hold a forum on the issue in his district within the next several weeks, to promote dialogue and educate his community about the issue. He is not shy, he said, about expressing this opinion back in the district.
Other African-American lawmakers have dealt with this political challenge differently. In the State Assembly, where the size of the controlling Democratic majority allows a comfortable margin to vote against the pack, many black lawmakers either voted no or were absent from the chamber when the debate stopped.
State Senator Shirley Huntley said she "doesn't believe in it" and has received a large number of correspondence from constituents asking her to oppose the bill. Others, like State Senator Ruth Hassell-Thompson, just don't like talking about the issue. (Her position on the issue is not entirely clear.)
"It's not so much a failure on the part of the African-American community in embracing it, it's a failure on our part of not doing a good enough job educating people about what this really means," said State Senator Eric Adams, who supports the measure. "Those that are going to put themselves in the position of leadership, you start out with stones being thrown at you and fingers being pointed. I remind my community often that at one time it was illegal for interracial marriages, and illegal for blacks to marry. And there were those who were not African-American who were on the forefront."
Senate Majority Leader Malcolm Smith, who is African-American, and supports the measure, and is ostensibly trying to muster support for it in the Senate, didn't show up at a pro-same-sex marriage rally in Manhattan yesterday afternoon that was attended by the governor and the mayor, among other officials.