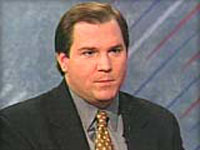 Frank Bruni, the restaurant critic for The New York Times, is leaving that role to become a writer-at-large for the Sunday New York Times Magazine.
In a staff memo, Bill Keller writes:
He will be turning in his restaurant-critic credentials when his memoir, 'Born Round: the Secret History of a Full-Time Eater,' is published in late August. After a break for book promotion and some overdue vacation, Frank will become a writer-at-large on the staff of our Sunday magazine, where he will have license to follow his appetites—his journalistic appetites—whereever they lead him. Jill and I have insisted on the right to draft him occasionally for projects large or small, but the magazine will be his base and main outlet.