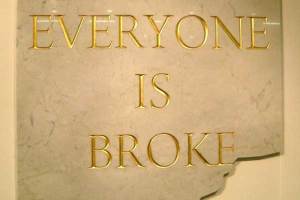 "Everyone is in strategizing mode," Ed Winkleman said over the phone from his gallery in Chelsea. He was echoing a feeling expressed by many New York art dealers who specialize in introducing the work of young artists to the market. "I was at a San Francisco gallery in '89 when things were bad," said Michael Foley, another Chelsea dealer. "But this is prolonged and protracted."
Like most businesses these days, art galleries are cutting corners (culling invitation lists to save on the cost of printing cards, reducing staff hours) and thinking hard about new ways of generating revenue. For some, especially those whose business depends on introducing young or little-known artists to the market, that means a departure from the discreet courtship between dealer and collector that makes the white cubes of Chelsea feel so charmingly indifferent to the casual visitor. Mr. Foley, perhaps more forthright than most in his marketing efforts, is in talks with another gallerist in his building about the possibility of joining forces to open a small, ground-level cafe. "We feel it would not only be lucrative," said Mr. Foley, "but it would draw people to the building."
Some gallerists have also noticed a change in Chelsea's social atmosphere. A fizzy market made dealers competitive or indifferent to one another: "In Chelsea I worked in one of those big buildings with lot of galleries and there were only two other gallerists who ever came down to see our shows," said dealer Benjamin Tisch, who left Chelsea last September to found his own gallery on the Lower East Side. But in a down market, dealers have more time on their hands:
"Suddenly, dealers have become more collegial than competitive," said Jen Bekman, a Soho gallerist who has embraced Web marketing. "The general feeling is that people are getting friendly," said Mr. Foley. "It's an amazing thing—people are coming out of their galleries and having cocktails."
Others argue that the culture of art-dealing is moving, inexorably, out of "meatspace" into the chilly confines of the World Wide Web. "Collectors are more comfortable purchasing from JPEGs," Mr. Winkleman said. "There's going to be lot less brick and mortar. You get the sense that everyone is waiting for the revolution."
Get used to it, said gallerist Jen Bekman, unusual because of her background in online marketing for companies like Disney and Netscape. "The Web is a populist medium," she said curtly. "The world is changing."
And yet maybe the community could also use some historical perspective. Paul Morris, vice president of MMPI Art Group, remembered deciding "to play into the myth of the avant-garde," as he put it, back in 1994, when he and two friends staged art openings at their respective Greenwich Village apartments on the same night; visitors were lured from one opening to the next by the promise of free artwork. The event captured the attention of New York Times art critic Roberta Smith, whose above-the-fold article on "micro-galleries" drew such a crowd to Mr. Morris' apartment that he was forced to relocate his operation. Together with his business partner, Matthew Marks, Mr. Morris then started one of Chelsea's first gallery spaces.
"A lot of these dealers have never negotiated a problem," Mr. Morris said. "It's about being creative."
ddacosta@observer.com