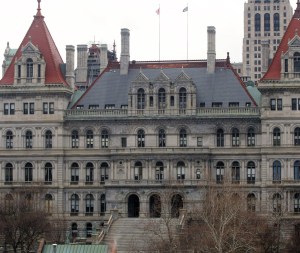 ALBANY—The message was clear to anyone who was at the Capitol on April 28: the pro-same-sex marriage lobby is an organized force you don't want to reckon with.
More than 2,000 people packed the Empire State Convention center. Organizers communicated via radio head set. Advocates sat at tables marked by legislative district—the Senate district tables tended to be longer, and lined with more people.
"This is not just about this year," said Alan Van Capelle, the executive director of Empire State Pride Agenda, and the organizer of Equality & Justice Day. "For a lot of people this is about what happened in the last several months, and a lot of people are engaged now in something that we are engaged in every day of the year.