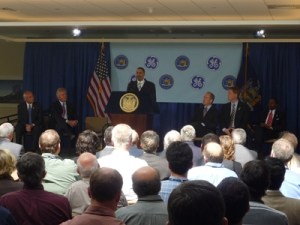 NISKAYUNA—Flanked by government officials, including David Paterson, General Electric C.E.O. Jeff Immelt announced plans to build a $100 million battery manufacturing plant in the Capital Region.
The new factory would make batteries developed using a nickel-sodium technology and could power hybrid cars, locomotives or other large equipment. A press release said that the investment was contingent on a grant from the federal stimulus package, but Immelt said "it's going to go forward regardless" and he considered stimulus funds "an accelerator."
The hope is that the plant, which he said will create 350 "skilled-trades" jobs, will be under construction before the year's end and in production by 2011. The plants exact site has not yet been determined. Over 30 patents have been secured for the production of the nickel-sodium batteries, he said.
The New York State Energy Research and Development Authority is offering $2.5 million in incentives, and the Empire State Development Corporation is kicking in $12.5 million. Immelt said the size of the federal grant was "still in process."
Paterson and other politicians, of course, gushed over announcement of new jobs in an area that has lost so many.
"This is, we think, how we're really going to reignite the engine of New York's economy," Paterson said, noting the creation last week of a new battery research consortium.
Senate Majority Leader Malcolm Smith called General Electric a "global corporate genius" and said "This is a great day for upstate New York. Welcome to the 21st Century."
Representatives Scott Murphy and Paul Tonko, whose district contains G.E.'s Global Research facility where the announcement was made, also expressed much excitement. Several Republican officials—State Senators Hugh Farley and Roy McDonald, Assemblyman George Amedore and Assembly Minority Leader Brian Kolb—also attended the event, but sat offstage. Other local officials, including Schenectady Mayor Brian Stratton and Schenectady County Legislature Chair Susan Savage, also attended.