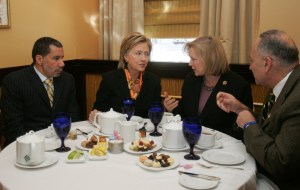 With noise getting louder about the challenges she'll face in her election next year, Kirsten Gillibrand has posted a couple of short videos as part of her "conversation" with New Yorkers. They seem expressly designed to continue to address concerns, left over from her recent days as a conservative-leaning Democratic congresswoman from a conservative-leaning district, that she's considerably less progressive than the people whose support she'd need in a primary.
In this clip about immigration reform, she says family reunification should be a priority, and that there should be "enough" visas to help industries like agriculture. She also hopes to come up with a plan that "works" for everybody.
In response to a question about guns, Gillibrand says she wants to crack down on "gun trafficking," into the state, "fix" the Tiahrt Amendment so law enforcement "has access to all the trace data" and "close" the "gun-show loophole" which does not require background checks for certain types of gun purchases. (In essence, Michael Bloomberg is writing her gun policy.)
On the question of whether or not she's a "flip-flopper," Gillibrand smilingly says, "I believe many people have mischaracterized my record," and, "Now that I represent the whole state, the many issues I'll be focusing on are far broader."