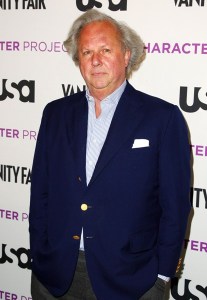 No need for the maitre d' to issue the standard announcement of his arrival.
Manhattan Assistant District Attorney Elizabeth Loewy did just fine: "The people call Graydon Carter."
At 3:48 p.m. on Wednesday, May 20, the 59-year-old Vanity Fair editor in chief entered a Manhattan courtroom sporting a royal blue blazer with brass buttons, striped shirt, polka-dotted tie, gray slacks, maroon shoes and, of course, his trademark silver pompadour.
He promptly took the witness stand and immediately apologized for accidentally brushing the microphone and causing some unpleasant feedback.
After a brief introduction, Mr. Carter was asked a simple question: Who was Brooke Astor?
"If there was a queen of New York," he replied, "she was probably the queen."
Mr. Carter was just the latest prominent New Yorker called to testify in the case against Ms. Astor's son, Anthony Marshall, who stands accused of exploiting his mother's Alzheimer's in order to plunder her vast fortune.
His testimony only added to a mountain of anecdotal evidence offered up thus far about the wealthy socialite's mental decline in her later years. Earlier in the day, a caretaker had recalled the time she found Ms. Astor stark naked and utterly confused at her summer home in Maine.
Mr. Carter said he had known the late grande dame of Manhattan high society, whom he described as "very ladylike" and always "perfectly dressed," both socially and professionally.
Prior to her death in 2007 at the age of 105, Ms. Astor had authored three separate articles for Mr. Carter's magazine, including one on the lost art of flirting, which she contributed while in her late 90s. ("She didn't fight about the fee—I liked that," he later said outside the courtroom. For her efforts, Mr. Carter said, the wealthy doyenne was paid "a few thousand dollars.")
Mr. Carter described the articles as "very charming."
He said he had also dined with Ms. Astor on a number of occasions, first at her tony apartment, then later at the Knickerbocker Club, Four Seasons and Da Silvano. He recounted a few of their conversations. "She told me once that she met a very nice Chinaman," Mr. Carter said. "I figured some one her age could get away with that."
Asked about her mental state, he said, "She could remember things very clearly that took place in 1919."
In the late '90s, Ms. Astor had offered Mr. Carter some 60 paintings of dogs, which he declined. "Because she was an old lady and I don't think she realized what she was saying," he said.
After the turn of the century, Mr. Carter said he would see the elderly socialite about once a year. She was "still beautifully put together," he said, but "very frail and not as mobile as she had been."
On two separate occasions, he said, Ms. Astor seemed to forget who he was.
In February 2003, Ms. Carter and his wife had visited Ms. Astor in Palm Beach, Fla. "She was not as vibrant as she had been … not as crisp or sharp," he said.
At one point, she asked him either "Have you seen Graydon Carter?" or "Do you know Graydon Carter?" (He could not remember exactly which.) Reminded who he was, she would get "sort of embarrassed," he said.
"Seventy five percent was very lucid and quite remarkable for an older person," he said; the other 25 percent of the time, she had difficulty remembering things and often repeated herself.
On cross-examination, defense attorney Fred Hafetz asked Mr. Carter why, in an earlier interview with the district attorney, he had described Ms. Astor as "pretty sharp" at their second-to-last meeting before her death.
"I don't recall saying that," Mr. Carter said.
Mr. Hafetz then showed him the write-up.
Mr. Carter suggested he had been misquoted: "I don't think I would have said 'pretty sharp.'"
Mr. Hafetz also asked Mr. Carter whether he would agree that Vanity Fair was a pretty prominent publication. "Somewhat," Mr. Carter said with a smirk. The attorney then asked him to confirm that Ms. Astor's offer of those 60 dog paintings happened around the same time that she was writing for the magazine.
Mr. Hafetz then handed him printouts of Ms. Astor's articles.
Asked whether she had any assistance in writing the items, Mr. Carter said he didn't know. "It was a suspicion of mine …" he began before the judge ordered him not to continue.
At 4:22 p.m., Mr. Carter was excused from the courtroom. A throng of reporters greeted him outside. One asked him, "Can I get a reservation at Monkey Bar?" Mr. Carter, who owns the midtown eatery, replied emphatically, "Yes!"
He described the case as "horribly tragic," offering sympathy for both Ms. Astor and Mr. Marshall.
Given Vanity Fair's own coverage of the case—correspondent Meryl Gordon was not present during his testimony—Mr. Carter was asked how strange it was to be included as a witness.
"It was slightly awkward," he said, adding, however, "I said nothing interesting."