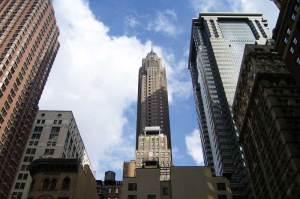 The bidding wars have begun for embattled insurance giant AIG's two downtown New York skyscrapers, with the second-round bids rolling in May 7. So far the bidding process—which will finally give downtown landlords some sense of what their properties are worth—is pointing to a market that, much like elsewhere in Manhattan, is sore and tender to the touch.
Industry sources say bidders are pricing the two towers at about $100 a square foot. But that's preposterous! Could this be true? That would mean that 70 Pine Street, one of Lower Manhattan's truly elegant Art Deco towers, rising 63 slender stories to a stunning Gothic crown and holding within it 774,419 rentable square feet, could be worth $77.4 million. AIG's sister building, at 72 Wall Street, rising 16 stories and holding 324,705 rentable square feet, could be worth a mere $32.5 million.
"Jeesh," said Robert Sammons, managing director of research at Colliers ABR, "My God, my God … It's a little embarrassing in a way, probably, well, certainly, for AIG."
Neither AIG, which this week sold its Japanese headquarters for $1.2 billion, nor its brokers at CB Richard Ellis would comment for this story. But sources say AIG will likely close a deal with one of its bevy of suitors sometime in the next few weeks.
According to Mr. Sammons, this would be the first major tower sale since January 2008, when 156 Williams Street, a 252,000-square-foot tower, sold for $60 million, or $238 a square foot.
In other words, this would be downtown Manhattan's first real benchmark (a "comp" in brokerese), which will indicate just how far values have fallen since the troubled autumn of '08.
There are two ways to interpret this.
"If it is true, it would be a great outcome, because somebody is willing to take a building with a lot of risk," said Yoron Cohen, executive vice president of the Capital Markets Group at Cushman & Wakefield. "It's a major show of confidence in the market."
Particularly since the mere maintenance of the buildings and payment of property taxes will come to millions a year. Moreover, AIG is said to be demanding 18 months of free rent as part of the deal.
Peter DeCheser, managing director of Jones Lang LaSalle Capital Markets Group, is similarly cheery. "What's surprising to me is, there's not enough people talking about what an absolutely tremendous opportunity this is!" Mr. DeCheser said. "You should be digging for buried gold and drilling for oil because 10 years from now, maybe seven years from now, people will kick themselves."
Here's the other way to interpret the arrival of bids in the $100-a-square-foot range for two premiere towers in Lower Manhattan: Investors are winding the real estate clock back to the early aughts, or even the 1990s. To, say, the year of 1998, when Swig Equities bought 48 Wall Street for about $123 a square foot.
The low-ball bids underscore the deep problems confronting the Financial District in the near term.
"There are at least three big problems in downtown going forward," Mr. Sammons said. "First, AIG. You're just not sure how much space they will need, what it will look like six months, a year from now. The second is Goldman Sachs, because they are moving into new headquarters and will probably be leaving 85 Broad and One New York Plaza, giving up 1.5 million square feet. The third question is Merrill Lynch and what they will do with the 2.1 million square feet they control at 4 World Financial Center."
Add to those uncertainties the murky future of the World Trade Center development, and what you've got is millions of square feet of empty space, and a distinct absence of tenants to fill it.
PRONE AS WE ARE to anthropomorphizing everything, Lower Manhattan's plight really does make the heart bleed. Particularly since Lower Manhattan has charms—waterfront views, winding streets, ancient buildings—that put midtown's anesthetizing regularity to shame.
Lower Manhattan, after all, was once Manhattan's only real office market. At least until the mid–20th century, the rise of Rockefeller Center and the upward drift of the market to midtown.
"When the Sixth Avenue El came down [in the late '30s], it turned Sixth Avenue into this international corporate office boulevard that sucked a lot of the downtown office market uptown," said Michael Miscione, the Manhattan Borough historian.
Some say the 1970s further exacerbated the problem, as rampant crime sent executives fleeing to the northern suburbs, making Lower Manhattan prohibitively inconvenient. Then, when matters began to improve in the 1990s, there was the dot-com bust. Then 9/11. And now this.
There are those, of course, who will say that the impending sales, if they happen, won't represent a true benchmark, driven as they are by AIG's disastrous financial position. (A similar argument was made regarding the recent sale of a majority condo interest in Harry Macklowe's former 1540 Broadway in midtown for $392 a square foot.) For sure, AIG is a special company: If you'll recall, the federal government has committed more than $170 billion to the insurance giant, and now owns 80 percent of its assets.
But in this very special market, what else is one to expect?
"People have discounted these trades as irrelevant or not accurate as comps," said David Schechtman, a senior director at Eastern Consolidated. "I disagree with that notion. You can't call each and every sale an anomaly. A transaction occurs and a price point is achieved, and that price point is relevant to the market each and every time."
drubinstein@observer.com