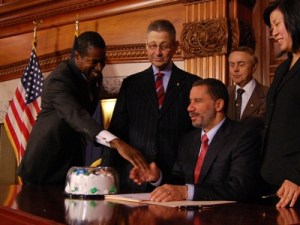 ALBANY—Happy Birthday, Governor! You've reached retirement age.
David Paterson turns 55 today, and was surprised with a cake by Senate Majority Leader Malcolm Smith after he signed a bill extending unemployment benefits for 13 weeks. Smith noted that "on most birthdays, people get gifts," but that Paterson was giving to those in need by signing the legislation.
After Paterson signed the bill with a dozen pens, and Smith led leaders in a round of Happy Birthday, Paterson offered his birthday wish:
"That my cursive-writing teacher, wherever she is, will never see this paper."
Paterson is marking the occasion next month with a fund-raiser in New York.