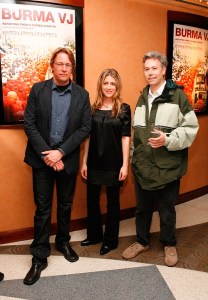 What's the time? It's time to get informed.
On Thursday, May 7, Adam Yauch of the Beastie Boys joined HBO Vice President Sara Bernstein in hosting the New York premiere of Burma VJ, director Anders Ostergaard's brutal documentary about the 2007 uprising in Myanmar, at the network's headquarters at 1100 Avenue of the Americas.
Prior to the screening, guests sipped sangria and chewed on skewers of chorizo, artichoke and red pepper, whilst mingling with three robed Buddhist monks, U Pylnar Zawta, U Gawsita, and U Agga Nyana, the leaders of the so-called Saffron Revolution that is depicted in the film.
What's it like to chat about Burmese repression at a cocktail party?
"Good point," said the raspy, 44-year-old old-school rapper Mr. Yauch, clutching a glass of water (presumably tap). "I don't know. If this helps to get the message out there of what's happening and ultimately helps to bring change, then so be it. But I guess one could look at it as being pretty hypocritical."
Hypocritical? Had he tried the shrimp and mango ceviche?
Mr. Yauch let out a brief chuckle. "The film is really powerful," he said.
The story is told through the lenses of local video journalists at a time when foreign news crews were banned from even entering the embattled country. The footage, later smuggled out of the repressed nation, depicts vicious clashes between military police and otherwise peaceful protesters.
Mr. Yauch, who is distributing the film through his company Oscilloscope Laboratories, has utilized his hip-hop street cred to advance various political causes for some time now, notably organizing a series of high-profile concerts in the mid-to-late '90s in support of Tibetan independence.
"I'm much more knowledgable about the situation in Tibet," he told the Daily Transom. "But I see parallels between what's happening [in Myanmar] and Tibet."
After directing the music videos for such Beastie Boys' classics as "Intergalactic" and "Body Movin'," the bass-playing, Brooklyn-born b-boy known on stage as MCA has increasingly embraced his passion for film, debuting his own documentary, Gunnin' For That #1 Spot, at last year's Tribeca Film Festival. Next week, he heads to Cannes.
And he's still got more rhymes than Phillis Diller. Now in the studio on the hip-hop trio's upteenth album, Mr. Yauch and cohorts Adam Horowitz and Mike Diamond are hitting the road this summer, with stops at Bonnaroo in Tennessee, the Austin City Limits Festival in Texas and Lollapalooza in Chicago.
What's the more powerful medium: music or film?
"I don't think you can really make that comparison," Mr. Yauch said, before slipping into the screening room.
"I have tremendous respect for [Mr. Yauch's] efforts," said fellow political filmmaker Michael Perlman, director of Tibet: Beyond Fear, who also attended Thursday's premiere.
Mr. Perlman noted that the event's vast culinary offerings were not exactly Burmese delicacies. "In the jungles, you eat rice," he said.
Recalling his own travels to Myanmar in the '90s, Mr. Perlman added, however, "We did capture a pig one time."