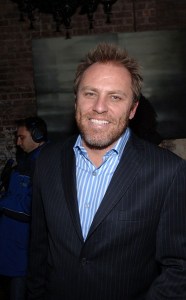 Greg Brier likes it on top.
In June, the 42-year-old proprietor of Highbar, Amalia and Aspen Social Club plans to open his second rooftop nightspot in the past year with the debut of Ajaxx, high atop Vikram Chatwal's 10-story Stay hotel on West 47th Street.
"If you want to experience New York, you cannot be in a more central location than this," Mr. Brier, dressed in a blazer and Ben Sherman-designed t-shirt emblazoned with a big bull's-eye, told the Daily Transom from his new perch upon the unfinished roof space last week.
"That's the Barclays trading floor," he said, pointing directly north at a glassy high-rise in the distance. "Once they see our cocktail waitresses, they're going to be out the door."
Veteran club designer Steve Lewis is handling the decor, which Mr. Brier described as a scene straight out of Ridley Scott's 1982 sci-fi epic Blade Runner. (Albeit with better refreshments.)
The entire three-level space will be lit up with vintage neon.
"The whole idea is bringing you back to Times Square, 1972," Mr. Brier said. "We've got a guy who pulled all these old retro porno signs, like, 'Live Nude Girls,' 'Girls, Girls, Girls,' from the original Times Square."
He even salvaged the "trapeze girl" from the recently demolished Playpen Theater. "The top of the bar is actually done in glass," Mr. Brier said, "you look down and that's where the Playpen piece is. Underneath the bar, the girl is kicking her leg."
Black-and-white TVs, hanging from the ceiling of an enclosed bar area, will flicker with old B-movies and sexploitation films. "Nothing hardcore," Mr. Brier noted.
Patrons will access Ajaxx via a tiny elevator inside Mr. Brier's Aspen Social Club, located on the ground floor of the same hotel. Given the limited transport, each guest will get a "lift ticket" ensuring them discounted drinks while they wait for the next trip up. "Buy the ticket, take the ride," Mr. Brier said, quoting Hunter S. Thompson as he is wont to do. (An entire room at Mr. Brier's Flatiron club Aspen is dedicated to the late gonzo journalist.)
It's all part of Mr. Brier's overarching aim to make midtown cool again. "A lot of people don't want to come to Times Square because of the whole tourist aspect," he said. "This takes you above the fray but not so far away that you're so far removed. You still feel like you're a part of it."
Rooftop bar and restaurant construction has been quite rampant in recent years, perhaps rivaling the retro speakeasy for most ubiquitous hospitality trend in town.
Ever since the eccentric impresario Steven Greenberg first tossed the old mattresses off the roof of the Gramercy Park Hotel and outfitted the outdoor space with more comfortable seating in 2002, it seems, the local liquor industry has been increasingly reaching for the heavens.
Even the midtown strip club Rick's Cabaret recently opened its own rooftop smoking deck and garden.
Naturally, Mr. Brier insisted that his new apex party spot is unique.
"There are a lot of rooftop decks and they're all doing the same thing," he told the Daily Transom. "They're all recreating this staid kind of lounge atmosphere, you know, Café del Mar, Hotel Costes, Buddha Bar-type vibe. This is going to feel very much like real New York… Whether you're a tourist, a downtown hipster, whatever, everybody's going to dig this shit."