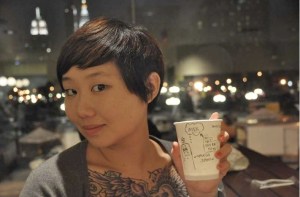 PHILADELPHIA – At around 10:15 this morning, Judge Frank Blumberg of Room 504 of the Criminal Justice Center at 13th and Filbert streets in Philadelphia sauntered into his courtroom, ready to begin the day's hearings.
On his docket for the day: a woman asking for a murder charge in which no one had been killed to be expunged from her record so she might be able to get her job at a bank back (granted); a guy who was accused of attempted murder for stabbing his girlfriend dozens of times trying to get his bail reduced (denied); and a man who denied having been driving too close to a police car one night in North Philadelphia. (It didn't help his case that he said the officers had been driving an unmarked van when in fact they had been in the Philadelphia Police Department's standard-issue Chevy Impala.)
An hour or so later, the court officer motioned to the four reporters in the room—an intern from the online news desk at The Philadelphia Inquirer, a gossip columnist from the Philadelphia Daily News, a reporter from KYW News Radio 1060 and this reporter, from The Observer—to come out of the galley and into the court itself, where they might be able to have a better view of a closed-circuit television that had been set up on the other side of the room. "Case 37, Ferrell," intoned the court officer, a friendly man named Tony who seemed to have taken a shine to the Inquirer intern, a tall blonde named Brittany wearing platform sandals and her Inquirer ID card on a lanyard around her neck.
On the screen appeared a short-haired Asian woman in a bright orange jumpsuit. Her large chest tattoo of a phoenix was covered up. She did not appear to be wearing any makeup.
A young lawyer from the district attorney's office named John Murray sat in front of the television questioning her. He asked her to state her name and home address.

"Kari Ferrell," she said, and mumbled an address in Brooklyn, though for the last couple of weeks, since being picked up by the Philadelphia Police after alighting from a bus from New York, Ms. Ferrell has been residing at the Riverside Correction Facility in Northeast Philadelphia, a women's-only prison built in 2004. She said she was 22 years old and said she had a bachelor's degree in music from the University of Utah. (Several sources had previously told The Observer that Ms. Ferrell does not in fact have a degree. After her hearing, The Observer called the University of Utah's transcripts department, which told us that no one by the name of Kari Ferrell or Farrell had ever been enrolled.)
Had she ever been diagnosed with any mental health issues, Mr. Murray asked? "No," she responded. Was she under the influence of drugs or alcohol? "No." Did she understand the charges against her for bad checks and forgery in Salt Lake City? "Yes." Was she electing to waive extradition? "Yes." Had she had a chance to discuss the extradition with her attorney? "Yes."
And with that, her hearing was over. Her public defender, a young woman with reddish-brown hair wearing a gray skirt suit, said that Utah now has 30 days to come pick up Ms. Ferrell, but the governor of Utah, Jon Huntsman, must first sign the extradition order. If no one from Utah comes to get her within 30 days, she has the right to habeas corpus, meaning that the Commonwealth of Pennsylvania could decide it no longer wishes to keep her, and let her go.