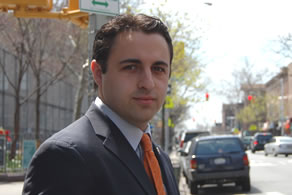 The usually ultra-liberal Brooklyn political club, Independent Neighborhood Democrats, endorsed a 27-year-old candidate who doesn't support same-sex marriage and who opposes abortion rights.
The club voted last night to endorse John Heyer over one of its own members, Bob Zuckerman, who is gay and fairly progressive. They're both running for the seat being vacated by Bill de Blasio, who is running for public advocate.
Gatemouth warned-predicted that this might happen and even the club's president, Kenn Lowy, said he would press Heyer on the issue of same-sex marriage and abortion before a recent candidate forum.
Heyer is accused of packing the club, a charge that dismisses the vote as a technicality and not truly representative of the club's members.
Zuckerman released a statement saying the club "is in danger of becoming an irrelevant voice," and that "the actions of some have continued to tarnish the progressive reputation of this club and it saddens me to think, as last night's vote demonstrated, it's no longer independent or reform."
But Lowy, the club's president, defended the endorsement, saying Heyer supporters followed the rules about bringing in new members in time to make them eligible to vote.
Lowy said the club's rules require members attend three meetings before they can vote. That rule was in effect last night.
"They played by the rules," Lowy said in a brief telephone interview. He said he opposes changing the rules to make tougher to qualify to vote. "You don't want to make it so impossible for new people to join."
A message left on the cell phone of Heyer's campaign manager was not returned.
On a candidate survey for another club, Central Brooklyn Independent Democrats, Heyer was asked if he supports same-sex marriage. He wrote:
I favor providing same-sex couples the full complement of rights, privileges, and respect afforded to opposite-sex couples. I don't think that any government has the right to define "Marriage"; for me this is a religious institution and therefore has no place in government debate.
Heyer has previously defended his position on abortion, saying it won't affect his ability to separate church from state.
Lowy said he didn't have the vote totals immediately at hand, but said Heyer got 68 votes, well ahead of Zuckerman, who got 32. But in another local race, there was no upset. The club voted to endorse attorney and local district leader Jo Anne Simon for the seat being vacated by David Yassky.
Lowy said Simon won with 70 votes.