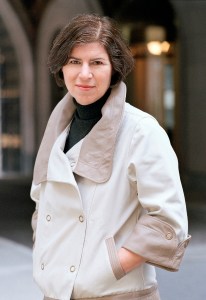 Wherever Meryl Gordon sets her Baltimore Orioles seat cushion in Judge A. Kirke Bartley Jr.'s courtroom often becomes the center of an orbiting cast of reporters.
Ms. Gordon, 58, author of the 2008 tome Mrs. Astor Regrets, is a one-stop reference on virtually every facet of the case against Anthony Marshall, son of the late socialite and philanthropist Brooke Astor, who now stands accused of looting his mother's fortune.
In the high-profile trial—witnesses included Henry Kissinger, Annette de la Renta and Barbara Walters—Ms. Gordon might just be the most popular person in the room.
"Oh, it's Meryl! Hi, Meryl!" the legendary interviewer Ms. Walters said after recognizing Ms. Gordon's voice amid a throng of reporters jockeying for comment following her testimony in the case on May 21.
"I sort of pinch myself every day when I go into court, because I never thought we'd end up here," said Ms. Gordon, who began work on the book as part of a New York magazine assignment back in 2005, before she knew the family fight would become a full-blown criminal trial. She ultimately interviewed some 230 sources, many of whom have reemerged at trial.
"What's been a sort of out-of-body experience for me is that I feel like I've become the welcoming committee for the witnesses and the unofficial fact-checker for the press," she told The Observer.
Ms. Gordon, who was recently named head of the magazine writing program at New York University (full disclosure: this reporter once took her class), is now covering the trial for Vanity Fair. (She was noticeably absent when the magazine's editor in chief, Graydon Carter, took the stand on May 20; she was away attending a funeral.)
Copies of Mrs. Astor Regrets are often spotted in reporters' laps, and nearly everyone cites it as an indispensable encyclopedia of the case. "It's the Bible. It is the Bible," said New York Daily News columnist Joanna Molloy. "I started putting Post-it notes on the important pages, and now I have a note on every single page," Ms. Molloy said.
Attorneys on both sides admitted to having read the book, and it seems inevitable that the reporting has had some effect on the case itself. "It's very weird when pieces of evidence turn up at trial that I'm pretty certain people only know about because I wrote about them in my book," said Ms. Gordon. For his part, Manhattan Assistant District Attorney Joel Seidemann downplayed its effect on the state's case. "You have to do your own work on the case, but it's a great book," said Mr. Seidemann.
Given the book's prevalence, and the close quarters in which the trial operates, it can be something of a parlor game to compare people's reactions to Ms. Gordon. Like other reporters, she chats amiably with attorneys from both sides, and seems to maintain a cordial relationship with Mr. Marshall's co-defendant, Francis X. Morrissey Jr., but has yet to speak with Mr. Marshall or his much maligned wife, Charlene Marshall. (Mrs. Marshall declined comment for this article.)
Ms. Gordon said she dropped off a copy of the book for the Marshalls, but never heard directly from them, and has kept her distance thus far during the trial. "I have not tried to speak to them. I feel like this is a difficult enough time for them," she said.
"I thought [the book] was quote-unquote 'fair,'" said Philip Marshall, Mr. Marshall's estranged son, who helped bring the original guardianship suit against his father. "I thought she did very good reporting," he said. (Mr. Marshall's more reticent twin brother, Alexander Marshall, politely declined to comment.)
"I want to know how it ends," said Ms. Gordon's husband, Walter Shapiro, a political columnist for PoliticsDaily.com. (Ms. Gordon plans to append the book with an epilogue about the trial.)
But with weeks, if not months, of further proceedings, plus appeals, still to come, Mr. Shapiro, who also does stand-up comedy, joked about when the couple might finally enjoy a romantic dinner without the subject coming up.
"I do think there might be a month in our lives somewhere down the road where Annette de la Renta is not mentioned, Tony Marshall is not mentioned, where Frank Morrissey is not mentioned, where certain prosecution and defense lawyers are not mentioned, and it would not bring me to tears to have one of those months in 2012 and not 2027," he said.