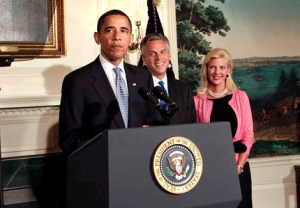 There were, inarguably, some very compelling reasons for Barack Obama to choose the Republican governor of Utah to be his ambassador to China.
For one, John Huntsman has experience in the region (he was ambassador to Singapore in 1991 and 1992), is fluent in Mandarin Chinese, and can make a meaningful contribution to the formulation and execution of Obama's China policy. Also, he'll bolster Obama's effort to give his administration a bipartisan feel—especially in the wake of the Judd Gregg debacle a few months ago.
But here's what Huntsman's selection is not: a shrewd maneuver on Obama's part to remove a potential G.O.P. foe from the 2012 presidential mix. Sure, Huntsman was interested in running in '12. And yes, Obama's old campaign manager, David Plouffe, recently said that Huntsman was the potential G.O.P. candidate he most feared. And, of course, the media can't resist hyping this angle.
Make no mistake, though: if Huntsman believed he had a reasonable chance of winning the Republican nod in '12, he wouldn't be doing this. He's plainly ambitious (he shoved aside a sitting Republican governor, Olene Walker, to win his job in 2004) and he's spent the past few months not-so-subtly testing the presidential waters, breaking with the dominant conservative voices of his party, staking out more centrist turf, and winning a bundle of attention for himself. If he spied an opening, he'd never have taken Obama's call.
But there is no opening for Huntsman, not as long as Mitt Romney is around. The former Massachusetts governor has stood in Huntsman's way before, and when it comes to '12 landscape, he's more of an obstacle than ever. Simply put, Romney's presence in the '12 mix blocks Huntsman's access to the donors who would otherwise fund a Huntsman campaign and deprives Huntsman of key support in several states, including Utah.
The reason is simple, if crude: they're both Mormons and, in today's Republican Party, there isn't room for two serious Mormon presidential candidates to run at the same time. In fact, as Romney discovered last year, there may not even be room for one. But there is room for one to try, and Romney has already reserved that space for himself.
Romney already has the national credibility that comes from running a respectable presidential bid. His campaign for the G.O.P. nod last year ended with a lot of near-misses (Iowa, New Hampshire, Florida, California), but it was hardly the kind of flameout that would give donors serious doubts about supporting a follow-up bid. Romney hasn't stopped running since he withdrew from the '08 race, and he's one of the clear (if early) front-runners.
That credibility pretty much makes it impossible for Huntsman to lay the groundwork for a campaign of his own. Romney's campaign produced a swell of pride among Mormons, who fortified him with massive financial support. In 2006 alone, before the '08 race was in full swing, Romney's PAC raked in $1.3 million from Utah residents, even though he was the governor of Massachusetts. Virtually every prominent Mormon Republican lined up to support him. One of them was Jon Huntsman Sr., Huntsman's father and one of the wealthiest men in Utah. With Romney ready to run again in '12, that support remains strong: a poll of Utah Republicans conducted just two weeks ago showed Romney crushing Huntsman, 55 to 24 percent, in a prospective '12 match-up.
Huntsman, to his credit as a politician, recognized early on the threat that Romney posed to his long-term ambitions. As Romney was revving up his campaign machine in '06, Huntsman raised eyebrows by endorsing John McCain and serving as one of the Arizonan's national finance chairmen. His calculation was two-fold: (1) prevent Romney from winning the G.O.P. nomination or from running the kind of losing-but-respectable campaign that would allow him to run again in '12; and (2) ingratiate himself with McCain in an effort to secure the high-profile appointment from McCain (a top Cabinet slot or maybe even the vice presidency) that would allow Huntsman to supplant Romney on the national stage.
This didn't quite work, of course, since Romney emerged from '08 with his credibility intact and because McCain lost in the fall, thereby eliminating the possibility of a top appointed post for Huntsman. Since the election, Huntsman has clearly been toying with 2012, by positioning himself to Romney (end everyone's) left. It seems no coincidence, though, that Huntsman gave up on '12 and accepted Obama's offer just two weeks after the poll that showed Romney bashing Huntsman in Utah was released. Those who should have represented the foundation of a Huntsman campaign were already spoken for.
Romney has complicated Huntsman's plans before. In 2001, Huntsman, who'd briefly served as ambassador to Singapore in 1992, was quietly readying himself to run for governor of Utah in 2004. (It was widely assumed that the state's three-term G.O.P. governor, Michael Leavitt, would not run again.) Given his family name, Huntsman's chances seemed decent. But Romney, who'd come to Utah in 1999 to run the foundering Olympic organizing committee, suddenly showed interest in the race.
In July 2001, Romney began shifting his position on abortion (he'd been avowedly pro-choice in Massachusetts), a necessary move to win a G.O.P. nomination in Utah, where ultra-conservative delegates to the state party convention hold unusual sway. Romney announced that he wanted to run for office again (he'd lost a Senate race in Massachusetts in 1994), and that he was torn between living in Utah or Massachusetts after the games.
When acting Massachusetts Governor Jane Swift's poll numbers collapsed in early 2002, he settled on Massachusetts (where he promptly re-embraced a pro-choice position—which he abandoned again when he ran for president last year). But had Swift not been so vulnerable, Romney probably wouldn't have been enticed back to the Bay State, which would have kept him in Utah, where he almost certainly would have run for governor in 2004—which would have blocked Huntsman.
Huntsman dodged the Romney bullet back then, but he wasn't so lucky this time. It may be true that Huntsman would have been the toughest foe for Obama in '12. But to face Obama, he would have had to first win the Republican nomination. That just wasn't going to be in the cards, and Huntsman realized it. Surely Obama did too.