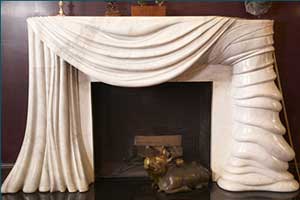 One wildly obvious but hilariously non-asked question of the post-bust world is just how much blushing, not to mention actual financial pain, will be suffered by New Yorkers who spent gargantuan amounts on real estate during the long-gone boom.
In June 2005, Donald and Shelley Rubin, who founded the enormous managed health care network MultiPlan, spent $22.5 million on a penthouse at Trump Park Avenue. Nothing else in the building has sold for as much since then; neighboring penthouses are still sitting on the market for as much as $51 million. The couple's $22.5 million was slightly more than what they spent on the old West 17th Street Barneys that became their Rubin Museum of Art, a Himalayan wonderland.
It's not clear that such magnificent sums will be spent so freely on residential Manhattan real estate again anytime soon, even the kind with an elevator and a multi-zone humidification system. Nevertheless, the Rubins have put their seven-fireplace red-brick townhouse at 122 East 70th Street on the market for $20.2 million.
The house reportedly cost $5.18 million when they bought it in 1995.
According to a listing with Brown Harris Stevens' Kathy Sloane, the townhouse was designed by the Colombian-born Samuel Botero. His entry in Architecture Digest's AD100 refers to a "flamboyant" Asian art-saturated Manhattan residence, and his Web site mentions a "collector's Manhattan townhouse" with a custom-designed Dragon-and-Phoenix rug that changes colors as it winds its way up the house (where there's a fifth-floor hot tub).
"I actually have on the floor in the kitchen," Mr. Botero said Tuesday, "a beautiful medallion of the horn of plenty; it's a mixture of semi-precious stones." And what about the gargantuan alabaster fireplace mantel? "The client and I were sitting having lunch, and she said, 'I want my mantel to be something no one's ever seen.' So I took a napkin and made a sketch. She said, 'I love it. Get it done.' I found a master of stone in Long Island City," Mr. Botero explained. "It's meant to look like fabric that's draping on one side, and on the other side it's like fabric that's folded on itself."
According to the listing with Ms. Sloane, who wouldn't comment, the house also has a roof deck with a kitchen, plus three terraces, plus a backyard garden "with a recycling fountain and gas grill attached to the house."
mabelson@observer.com