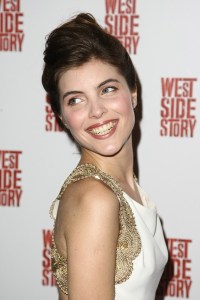 Guests gathered at the home of Susan Gutfreund at 834 Fifth Avenue yesterday afternoon for a luncheon celebrating the revival of West Side Story, which opened in March at the Palace Theater, seemed to be endlessly fascinated with a 21-year-old Argentinean actress by the name of Josefina (pronounced, Zho-sefina) Scaglione.
Ms. Scaglione is svelte, pretty and has that charming way about her that foreigners often have where she never seemed to understand what anyone was saying and seemed to always be saying things that came out funnier than she had intended them.
She was introduced to The New Yorker's Hendrik Hertzberg, the designer Ralph Rucci, Harper's Bazaar editor Glenda Bailey and persistently peppered with questions.
Has she seen much of New York? She has not, as most of her time is spent either rehearsing, performing or sleeping.
Where is she staying? In the Theater District, but she's currently looking for a place in the West Village.
Has she seen God of Carnage, or Our Town, or Jane Fonda in that, um, whatever it's called? No, no, and no.
"Well, have you seen Mary Stuart?" demanded Peggy Siegal, the publicist hosting the event.
"No, but I have seen Mary Poppins," the demure Ms. Scaglione replied across the table as everyone listened intently.
This is Ms. Scaglione's first time in New York. She was cast for the role of Maria by director Arthur Laurents and producers Kevin McCollum, James Nederlander, and Jeffrey Seller, through a video she made for YouTube.
"I was performing Hairspray in Argentina at the time and I had recorded a video of a tango dance for YouTube," Ms. Scaglione told the Daily Transom. "It was circulating around and I guess when Arthur Laurents was looking for Maria his friends in Argentina told him, 'Well, look at this video and what do you think about this girl.' It was crazy!"
But, Ms. Scaglione said she didn't feel pressure performing the classic despite being one of the only actors, performing alongside Matt Cavenaugh and Karen Olivo, plucked from overseas.
"It's a challenge, but I don't feel pressure like something heavy. It's more like something amazing," she said.
Ms. Olivo was also a last-minute find for the producers. She was playing one of the lead roles in In the Heights—also produced by Mr. Sellers, Mr. Nederlander and Mr. McCollum—when the role of Anita remained vacant with rehearsals just a week away.
"I was one of the only women in New York that they hadn't seen. They said, 'We haven't found anyone. Can you just come in so that we can rule you out and say we've seen everyone?'" recalled Ms. Olivo. "In the back of their minds they told me they always thought I would be perfect, but they didn't want to take me from one of their shows to put me in another. But they had already gone overseas to find Josefina and they were afraid they would have to do that again. Then I came in and, for actors, you don't go into an audition room unless you're going to get it, so I went in there to get it."
Ms. Olivo said she was nervous at first about playing Anita.
"When I originally heard about the show, I didn't want to do it because no one would be Chita [Rivera] and no one can be Rita [Moreno]. They really achieved the role," said Ms. Olivo. "But when I met Arthur Laurents, he said he didn't want to do a version of West Side Story that anyone's ever seen before. If I actually tried to do an impersonation of one of these ladies, it would have been out of place."
Mr. Seller was nearby sipping a margarita. How did he think the musical was going so far?
"We didn't fuck it up!" he exclaimed. "That may have been the scariest thing for me is that we don't fuck it up. My history as a producer has really been doing new musicals. It's a hard task, but you're not having to live up to someone's expectation of what it used to be—their ideal. But everyone who comes to West Side Story has a preconceived idea of what it should be based upon their own romantic notion of their memory from the movie or seeing the show on Broadway as a child."
But it seems to be working out, according to Mr. Seller.
"The audiences are fantastic for musicals right now." he said. "In this world where Internet piracy has ruined the recording business and is taking huge chunks out of the movie business, there is one business that thrives as well as it ever has and that is the theater, where you still have to buy a ticket, show up, sit in a seat and watch the show."