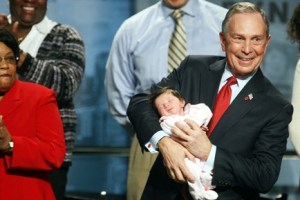 On the afternoon of May 12, Deputy Mayor for Education Dennis Walcott visited State Senator Kevin Parker in his Albany office to try to get him to support Michael Bloomberg's agenda for mayoral control of city schools. This—the visit, the dialogue—was something new.
"They are trying to make the case, and they are listening to concerns," said Mr. Parker in an interview. "Had he done this with everything he's had in the past, he'd already have had mayoral control just the way he wanted it, and we'd be celebrating it in a West Side stadium where the Jets would be playing, after looking at the gold medals that were won in the Olympics that would have been held in New York City."
Mr. Parker was referring, of course, to Mr. Bloomberg's poor rate of success when it comes to shepherding—or forcing, as most legislators would probably describe it—big projects through Albany.
His big plans for a West Side stadium, and congestion pricing, and the Bloomberg-backed remaking of the M.T.A. funding structure that called for tolls on the East River bridges—they all disintegrated in the Legislature.
Now, with mayoral control up for renewal by the Legislature by June 30, Mr. Bloomberg has adopted an anti-Bloomberg strategy. He is acting like a politician.
It's not just the outreach, dispatching Mr. Walcott to lobby lawmakers, and Schools Chancellor Joel Klein to serve as a human lightning rod, absorbing abuse in private and public from legislators exacting cruel revenge for perceived slights in the past. ("This is really the first time that we have been able to question you in four years," Assemblywoman Catherine Nolan scolded at a hearing, as Mr. Klein listened politely.) It's also the unusual willingness to deal.
Sources in the Bloomberg administration acknowledge that the mayor is taking a more diplomatic, deal-prone and political approach to getting something close to the present version of mayoral control reauthorized. And so Mr. Bloomberg, who likes to think of himself as a non-politician, has authorized concessions to the teachers' union and its legislative allies on a number of issues not considered central to his control of the school system, such as a willingness to subject the Department of Education to an institutional audit by either the state or city comptroller, or to provide for a greater advisory role for parents.
It appears, for now, to be working.
The Assembly leader, Sheldon Silver, the executioner in chief of some of Mr. Bloomberg's most cherished plans, this week voiced his support for key parts of the Bloomberg-endorsed plan, as has the Senate majority leader, Malcolm Smith.
"With time, everyone better learns how to navigate the channels of government," said Assemblyman Michael Gianaris of Queens. "To his credit, I think the mayor has become a more effective advocate as time has passed. I think there is a realization now that the Legislature has a vital and important role to play in the process, and recognizing that and acting accordingly is very constructive in achieving a result that we are all seeking."
It is hard to overstate the depth of antipathy that the Bloomberg people have had to overcome to get this far. State legislators have long felt, not unreasonably, that the mayor and his underlings view them as lowly hacks with whom they seek to have a minimum of actual contact.
"On congestion pricing, we get a visit from the mayor basically 15 minutes before the vote, and he essentially offends the whole conference," said Mr. Parker.
IT HELPS, in this case, that many legislators and education experts and voters—not to mention a number of prominent Democrats, starting with President Obama—actually believe Mr. Bloomberg has the merits on his side and like the accountability that comes with vesting one person with control of education policy and the ability to close underperforming schools. The alternative, backed by the teachers' union and a number of Democratic legislators, is to strip the mayor of his majority and allow him to only appoint five of the Panel for Education Policy's 13 members. The remaining eight members would be named by eight different elected officials.
"If we don't like the mayor, we can obviously vote the mayor out of office," said Kenneth Wong, a professor in education policy at Brown University and author of The Education Mayor: Improving America's Schools. "Mayors like to look at data. Mayors spend a lot of time looking at the future of the city and are in a good position to know where schools need help and how it connects to a broader quality-of-life strategy."
The deal isn't done. Critical issues remain unresolved, such as whether the Bloomberg appointees to a panel of educational policy will serve at his pleasure, as he demands, or for fixed terms, which some of his opponents advocate.
Bill Thompson, the likely Democratic nominee for mayor and a former head of the since-disbanded Board of Education, has proposed a change that, like the teachers' plan, would give the mayor only five members on a board, and divide the majority up between appointments made by borough presidents, a teachers' union representative and four other members.
But even as the the UFT, run by Randi Weingarten, advocates a dilution of the mayor's power, it has begun to make conciliatory noises about the mayor's leadership.
On May 9, Ms. Weingarten delivered a major address at an annual UFT meeting at the Hilton New York, and spoke admiringly of Mr. Bloomberg's control of the schools.
"Even the UFT admired Mayor Bloomberg's willingness to take responsibility, and many of us still do," she said, before outlining a proposal to make schools a nexus for children's health care and community outreach that, she said, "would seek broader metrics than just test scores and graduation rates."
"The opportunity to do this is right now, because of mayoral control, the federal stimulus bill and what we have already accomplished," Ms. Weingarten said. 
Mr. Klein—who got booed when he was first introduced—congratulated Ms. Weingarten on a "good speech." He then withdrew behind the ballroom's curtain and told reporters that he would consider some of Ms. Weingarten's proposals.
Mr. Klein later told The Observer in a telephone interview: "I'm going along with some of the things in that proposal because they interest me and I think they are good ideas. But if it will help lead to a strong consensus on mayoral control? Sure."
He is cautiously confident.
"I think there is strength in numbers here, and I think you'll see it," said Mr. Klein. "I'm not saying there won't be any changes here, but I'm sensing from the people I'm talking to that they want to move this thing forward, and I think they will."
In this, the Bloomberg administration has some powerful allies.
Mr. Obama, speaking at a Los Angeles learning center on March 19, suggested that improving the nation's public-school system required more flexibility in the firing of low-performing teachers, something the teacher's union has fiercely opposed. "If a teacher is not improving," he said, "how do we get them to choose a different career, right?"
The president's education secretary, Arne Duncan, has been more directly involved. He has proposed closing the lowest-performing 1 percent of schools in the nation, and has said, "At the end of my tenure, if only seven mayors are in control, I think I will have failed." He has specifically backed mayoral control in New York City, which has led Ms. Weingarten to argue that Mr. Duncan failed to understand the "nuances of school governance here."
Peter Cunningham, an assistant secretary at the Department of Education, said in an interview that Mr. Duncan had advocated for mayoral control in Albany and may do so again.
"Secretary Duncan's talked to Randi about it, and it's hard to unravel from our standpoint. It seems she's not flat-out against mayoral control."
Speaking of the UFT, he said, "I know it's a strong union. Obviously, [Schools Chancellor] Michelle Rhee has struggled here in Washington. We had some of our own challenges in Chicago—I don't know whether it's harder in New York. It seems like Joel's gotten a number of reforms through, so our sense is that while politics is a contact sport in New York, at the end of the day, people do want to get something done. It just sometimes breaks down over differences of opinion, as it does everywhere."
Mr. Klein acknowledges that the teachers' union—like the Legislature—is a force to be reckoned with, but he is now loath to use the heated language he had used to describe them in the past.
"They are a very strong, powerful group," said Mr. Klein, arguing that an elected official's responsibility is to its constituents, and not the politically influential associations that fill their coffers. "A legislator's job is to represent the people and not to represent any subgroup or special interest."
Asked if the Bloomberg administration was willing to flex more muscle in its efforts to reauthorize mayoral control, by, say, running commercials against the legislators or seeking to threaten their seats, Mr. Klein replied, "We feel we are getting a very good reception up there and what the particular tactics will be will depend on how the process unfolds." 
The good reception, as Mr. Klein knows, is not universal.
Many Democratic legislators still hold a grudge against Mr. Bloomberg and his administration for what they consider his abuse of mayoral control in 2004, when he famously fired and replaced members of the educational panel hours before a vote his administration ultimately won to impose strict promotion criteria for third-graders.
"It is personal," said Rory Lancman, an assemblyman from Queens. "I am predisposed to be in favor of mayoral control, but he is losing me. I think my views are somewhat representative." 
One veteran administrator of the New York City school system, former Schools Chancellor Rudy Crew, said that the reauthorization of mayoral control would be an enormous political achievement for Mr. Bloomberg.
"To get to that point, it is a real feat," said Mr. Crew, who himself opposed mayoral control. "It requires some sure-footedness to be able to do that—just a huge amount of politicking.