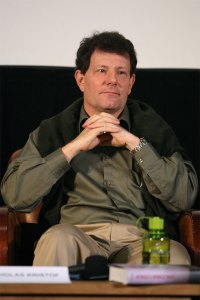 This morning, on May 28, New York Times columnist Nicholas Kristof challenged a room full of gamers.
"I'm slightly intimidated by being here as the one who knows the least about games," he said, standing on a stage at the New School's Tisch Auditorium on West 12th Street in a brown blazer. He was standing in front of a laptop freckled with stickers as about 400 humanitarians, journalists, academics, and game designers who had gathered there to hear his keynote speech at the 6th Annual Games for Change Festival listened intently. "My middle son was a little skeptical that I had any right to be here—I think he was actually kind of incredulous. I think his point of view was my main interaction with games was me threatening to break his fingers unless he gets his keys off the keyboard and start doing his homework."
But when Mr. Kristof, and his wife, former New York Times editor Sheryl WuDunn, release their new book Half the Sky: Turning Oppression Into Opportunity for Women Worldwide in September, they plan on accompanying the work with a free social networking game that they hope will educate a new crop of activists about women's rights.
The couple is working on the Half the Sky project with Games for Change, with some help from E-Line Ventures, a digital entertainment publisher, Eric Zimmerman, co-founder and chief game designer at gameLab (and one of The Observer's "Power Punks") and Dandelion Games. Mr. Kristof wouldn't give up many specifics on the game. "It blurs the reality between artificial reality and what is actually happening out there," he said. "And if I tell you anymore, I'd have to kill you."
He asked the game designers in the room to take on a cause for their own gaming projects.
Mr. Kristof said he even sees potential for mainstream games, say, Guitar Hero or Halo, to have "cause placement" worked into their narrative—just like product placements in TV shows and movies.
Mr. Kristof said he and his wife were inspired by other online games like Darfur is Dying, a browser-based game developed by mtvU, University of Southern California students and African aid workers in 2006. Users act as displaced peoples in a virtual world and are required to complete tasks like fetching water and running from animated Janjaweed thugs to aid their camp. He cited Food Force, a 2005 game published by the United Nations' World Food Programme, as another example.
"We just saw how people can use games as this entrypoint, make this emotional connection, learn a little about the complexities and truly become engaged in an issue," Mr. Kristof said. The couple previously co-authored two books about Asia, winning the Pulitzer Prize in 1990 for their reporting from Beijing about the Tiananmen Square protests.
"It's kind of nonintuitive for a New York Times columnist to embrace this [gaming] world and the reason is essentially—I spent a lot of my time trying to get Americans to care about issues that are a long way away, that may not seem to matter about them, whether it's global poverty or disease or genocide or sex trafficking or whatever," Mr. Kristof told the crowd. "And one of the things I've concluded is that we as journalists, and the humanitarian community broadly, are really bad at this kind of game. Any toothpaste company manages to market its toothpaste with incomparably more sophistication than humanitarians trying to market, if you will, a cause where potentially millions of lives are on the line."
So Mr. Kristof cracked some social psychology research. He read studies that said Americans are willing to be more involved with causes and communities if they can connect with people on a personal level. "One death is a tragedy, millions are a statistic," Mr. Kristof explained.
He said social networking games, in which users can identify and relate to each other as individuals, could be useful to get more people involved in causes they care about by tapping into those grass-roots, bottom-up, Web-fueled empowerment offered by Barack Obama's presidential campaign and election.
"My generation, when we were trying to create a better world, our intuitive, our instinctive reaction was to go out and protest against something," he said. "I think that young people today also have a strong appreciation for the way one can create and make a difference, to start something.
"The starting point directed toward games is a great deal of skepticism in a sense that this isn't serious," he continued. "I think that the way to change that is the record of success that these have had and in my case, what really changed my thinking was watching Food Force and Darfur is Dying in particular and journalism is in such desperate shape right now, frankly, that we're groping for anything that might work, that might reach new audiences, that might connect.
"I truly think that these [games] are going to play a major role in trying to make this connection because in journalism we're not often very good at it, and you guys can help us be that bridge."
Mr. Kristof challenged the gamers by reciting a story about one of his friends, an American aid worker who worked in Darfur in a village where the Janjaweed were still active. She got to know two women whose home was invaded by 50 Janjaweed soldiers, who enslaved their family. They were forced to fetch them water, slaughter their livestock to feed them and were repeatedly raped by the men. When their father got down on his knees and begged the commander to let his daughters go, the leader called the women into the room and beheaded their father in front of them.
"She never broke down in Darfur," Mr. Kristof said about his friend. But when she returned to the states for Christmas vacation, she started sobbing in the backyard of her grandmother's house, while watching wild birds flutter around a birdfeeder.
"She realized that she had won the lottery of birth by having the chance to grow up in a country where there was not only security but there was such ample resources that people could devote a little bit extra income to make sure that wild birds didn't go hungry in the winter," Mr. Kristof said.
"So that's my charge to you, I hope you will take on these causes, get more involved, and keep it up those people who are, not only because it will make a huge difference with these causes and not only because I think it will truly make you happier, more fulfilled, but simply because I think that is going to be the best way possible that we can get more Americans to understand their own place in the world and ultimately your target has to be to get Americans to look at a birdfeed and just fall apart."