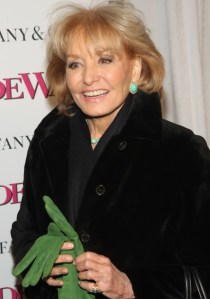 "I like it better the other way," legendary interviewer Barbara Walters said after spending two hours answering questions on Thursday afternoon, May 21—mostly about her close friend, the late Brooke Astor, whose son, Anthony Marshall, stands accused of raiding his mother's estate.
"Give me this!" Ms. Walters joked as she pretended to grab a notebook from an inquiring reporter in the 15th floor hallway of the Manhattan Criminal Courthouse.
"When you sit in the courtroom, it's a very different kind of feeling," Ms. Walters told more than a dozen journalists and a handful of spectators, standing for one of the longer post-testimonial hallway sessions the press corps has enjoyed thus far in the lengthy trial.
Dressed in a double-breasted black blouse and a pencil skirt, the former host of 20/20 and current executive producer of The View had been strikingly earnest on the witness stand.
Defense attorney Thomas Puccio, representing Mr. Marshall's co-defendent, Francis X. Morrissey, began his cross-examination with a light-hearted question about whether Manhattan Assistant District Attorney Elizabeth Loewy might be invited to appear on The View.
"Did you ask me whether she was going to be on The View next week? Are we serious?" Ms. Walters replied with an air of incredulity. "No, she will not be."
For the last three weeks, various witnesses have inadvertently speculated about just what exactly was going through Ms. Astor's mind during her latter years—only to be interrupted by an objection. But Ms. Walters, who agreed to testify without a formal subpoena, took her charge seriously, often censoring herself from making any inference.
When asked a routine question about whether Ms. Astor's weekend estate, called Holly Hill, was in Westchester County, Ms. Walters said she believed so, but added, "I'm under oath, I can't make assumptions."
Later, Ms. Walters spoke slowly and glanced downward as she recounted an incident at Ms. Astor's 100th birthday party, when flowers from Prince Charles were presented by Ms. Astor's daughter-in-law, Charlene Marshall.
"Mrs. Astor, when Mrs. Marshall gave her the flowers, made a terrible face," Ms. Walters told the jury. "It stayed in my mind. She was not happy."
When Mr. Puccio re-read portions of a 1993 interview that Ms. Walters conducted with Ms. Astor, in which the late grande dame of New York society said she might ditch her old friends if they became "dull and boring," Ms. Walters was even reluctant to take her close friend at her word.
"People say things in interviews for many reasons, sometimes just to be entertaining," Ms. Walters testified. "I can't swear she meant every single thing she said in an interview. She wasn't under oath."
Ms. Walters expressed relief at the conclusion of her lengthy testimony, yet she remained somewhat guarded. "Now that I've come out of the court, I'm so careful about offering my opinions," she admitted. "I liked Tony," was about all reporters could get.
The veteran journalist couldn't resist asking a few questions before she slipped into the departing elevator.
"You're here every day?" she asked of the assembled press corps. "Now, do you sit in the courtroom?" Ms. Walters continued, looking bewildered. "You sit there for hours and hours?"
"God bless you," she said.