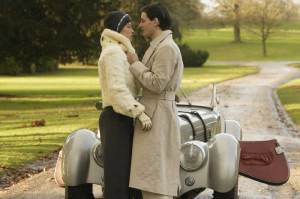 Easy Virtue
Running time 93 minutes
Written by Stephan Elliot and Sheridan Jobbins
Directed by Stephan Elliot
Starring Jessica Biel, Ben Barnes, Kristin Scott Thomas, Colin Firth
Noël Coward is a musical B-12 shot at any time, but considering today's general gloom, doom and moneymaking box office junk, a spoonful of that timeless Cowardy custard right now is just what the doctor ordered. Broadway's got Angela Lansbury laying them in the aisles with a hilarious revival of Blithe Spirit. Now the movies have a jaunty revamp of a lesser-known but equally charming Coward work, Easy Virtue, guaranteed to lift your spirits and cure what ails you.
Written 80-odd years ago and first adapted for the screen by Alfred Hitchcock as a silent film, Easy Virtue retains the fizzy Champagne wit of an elegant writer, and the flinty, gossamer-wing direction of Australia's Stephan Elliott distinguishes it as his best work since his famous 1994 breakthrough film, The Adventures of Priscilla, Queen of the Desert. Lush production values, a perfect cast and the nimble, cutting wordplay and class conflict of Coward's sensibility add up to a sparkling entertainment that doesn't feel a bit dated. You expect nuance and brittle theatricality from Colin Firth and Kristin Scott Thomas, but the big surprise is Jessica Biel, who is positively dizzying as a Jazz Age American race car driver who flirtatiously seduces and marries a naïve and uptight young English nobleman, then journeys to his rich, extravagant, upper-crust English country manor to meet his parents, setting British society back a few hundred years. The playboy groom (Ben Barnes) is fonder of his new wife than his batty family is. His starchy snob of a mother (Ms. Scott Thomas) actually hates her, and his dim-witted sisters (Kimberly Nixon and Katherine Parkinson) actively try to sabotage the marriage and send their American sister-in-law packing. Only in the randy family patriarch (Colin Firth) does the outsider find encouragement and acceptance, and the two bond in their mutual passion for motorbikes and thumbing their noses at pretentious upper-class etiquette.
Mr. Elliott directs the ensemble with panache and a gleeful appreciation for Noël Coward songs as they sally forth in their tennis knits to endure crafts fairs, a fox hunt and dancing the cancan at a benefit show for war widows while Noël Coward himself sings "Mad Dogs and Englishmen Go Out in the Noonday Sun." Some will find the unfulfilled father, the weak son, the shrewish sisters and the draconian mother a nest of British clichés, but the comic timing and the subtleties in the script (adapted by Mr. Elliott and Sheridan Jobbins) honor Coward with frosty aplomb.
The stifling repression endemic to the British class system is so impeccably preserved that it connects with modern audiences, and young people allergic to period pieces are likely to embrace the message about the need to break from the shackles of the past and open a window to a brave new future. The cars and the costumes and the china and the sumptuous sets enrich what could otherwise, in lesser hands, seem bland and arch. My one caveat is the musical orchestrations, which, in a desperate attempt to sound whimsical, work in washboards and kazoos that massacre the Great American Songbook. Still, Jessica Biel manages a delicious "Mad About the Boy," and the sweet, tuneful crooning of Ben Barnes adds a satisfying lilt to two Coward evergreens, "Room With a View" and "I'll See You Again." Easy Virtue is romantic, clever and artfully crafted. All told, a sparkling, classy and ultimately satisfying experience.
rreed@observer.com