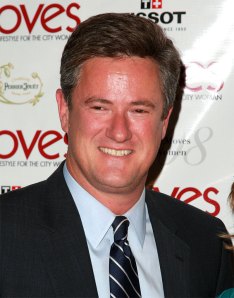 On Wednesday night, Joe Scarborough stood in the back room at Michael's restaurant, and publicly thanked his wife, Susan, who stood a few feet away, for inspiring the evolution of his political punditry at MSNBC.
"The first couple of weeks I was on MSNBC, every night I would come home and she would meet me at the door and stare at me and say, 'Stop acting like a jackass on national TV!'" said Mr. Scarborough. "She said this back in 2003. I said, 'Well, that's what I'm getting paid for. They hired me for that reason.'"
"She said, 'You need to be more like Tim Russert,'" he continued. "My response was, 'Well, honey, they already have one of those.' She said, 'They need another.'"
Nearby, Mr. Scarborough's on-air partner, Mika Brzezinski, smiled. She was standing next to Donald Trump, who was wearing a pink tie. Mr. Trump slung his arm around Harold Evans and gazed around the room, which was packed with Morning Joe regulars.

Jack Welch, Mike Barnicle, Ray Kelly, Willie Geist, Leslie Stahl, Donnie Deutsch, Mark Halperin, Erin Burnett, Ana Marie Cox, Phil Griffin—they had all gathered at the media watering hole on 55th Street in Manhattan to fete the publication of Mr. Scarborough's new book, The Last Best Hope: Restoring Conservatism and America's Promise.
A few minutes earlier, Tina Brown of the Daily Beast—in hyperkinetic hostess mode—had introduced Mr. Scarborough. "This man is so incredible," she said of MSNBC's morning political talk show host. "He's the only person, other than my husband, who has seen me at that time of the morning."
She ceded the microphone to Mr. Scarborough, who gamely launched into his stump speech on what's ailing the Republican party.
"Conservatives always like to talk about Ronald Reagan," said Mr. Scarborough. "They remember Reagan's ideology but they forget his temperament."
Mr. Scarborough told a story involving Colin Powell, Ronald Reagan and the Oval Office. The punch line involved Mr. Reagan ignoring Mr. Powell to gaze out the window at some squirrels, which were eating some acorns that he had recently sprinkled in the garden.
"Reagan temperamentally was incapable of hating," said Mr. Scarborough. "If people wanted to fight, scratch, claw and yell, he always rose above that. That's what the Republican Party needs to do. … If Reagan were alive today, he wouldn't be calling Barack Obama a communist. He wouldn't be calling the next Supreme Court justice—what did he call her?"
Mr. Scarborough scanned the room in search of someone who could recall what Rush Limbaugh had called U.S. Supreme Court nominee Sonia Sotomayor.
"A racist?" said Mr. Scarborough. "A reverse racist. This is insane."
"When I hear Rush Limbaugh and others calling Colin Powell a 'liberal' I just have to laugh because there is nothing liberal about Colin Powell's approach towards foreign policy," he said. "So what is a conservative? A conservative conserves taxpayer dollars. A conservative doesn't engage in military adventurism. A conservative doesn't add seven trillion dollars to entitlement programs that are already going bankrupt. A conservative shows restraint."
"The Republican party either reforms or it dies," he added. "Hopefully, they will look at this book and take some cues and actually start acting conservative again."
Everyone clapped, and then promptly returned to vodka tonics and passed mini crab cakes.