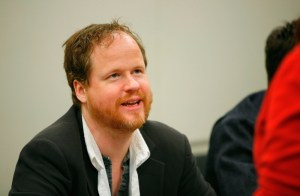 We love a good round of blogosphere-led hand wringing, so the news that Vertigo Entertainment is planning a reboot of the Buffy the Vampire Slayer franchise totally tickles our fancy. Rather than include creator Joss Whedon or any of the beloved supporting characters he created for television, Vertigo is relying on the immortal Fran Rubel Kuzui, director of the long-forgotten original Buffy with Kristy Swanson and Luke Perry, to produce a film that "compliments" Mr. Whedon's niche series. Think Star Trek, if J.J. Abrams kept Captain Kirk but replaced the crew of the Enterprise with some other dudes.
It goes without saying that this is a hilariously misguided idea, but it doesn't seem worth the apoplectic reactions splattered about the web, specifically with regards to Mr. Whedon's potential lack of involvement; as an intrepid blogger over at Entertainment Weekly put it: "Worst Idea Ever of the year!" Is it though? Mr. Whedon is talented, sure, but his absence from a Buffy the Vampire Slayer movie doesn't necessarily mean it will, well, suck (pun most certainly intended!). Fact is, beyond the Buffy-verse, Mr. Whedon hasn't done anything to warrant his status as a sacred cow; being one of four screenwriters on the original Toy Story is nice, but that achievement clearly gets canceled out by being the only writer for Alien Resurrection.
Anyway, all this got us thinking: Who are some other wildly overrated Hollywood commodities? Here are three of our favorites.
Danny Boyle
There was a meme running through the Oscar season last year which seemed to say that Danny Boyle was "due" for some Academy recognition. Come again? We love Trainspotting too, but this guy is not markedly better than other genre filmmakers in his peer group. And his work on Slumdog Millionaire felt like nothing more than warmed over Tony Scott. Needless to say, that is not a compliment.
James Cameron
Not even we can deny that the King of the World is one of the biggest directors ever: Aliens, T2, Titanic; any filmmaker would love to have one of those movies on their resume, let alone all three. The reason Mr. Cameron skates into the land of overrated, though, is because there seems to be this feeling amongst journalists and tastemakers that audiences are waiting with baited breath for what he does next. But by the time his 3-D-palooza, Avatar, is released in December, thirteen years will have passed from when Mr. Cameron ruled earth with Titanic. Does anyone even remember back that far? And, more important, did everyone forget that underneath all its technical prowess, Titanic was purely a mediocre melodrama?
Peter Jackson
We don't think we've liked a Peter Jackson movie since The Frighteners. His laborious Lord of the Rings adaptations were bad enough, but what really pushes him over the top is King Kong. Here's an idea, let's take a fun creature feature and turn it into a three hour prestige picture. Ugh! Perhaps his take on The Lovely Bones, due in December, will fare better. At least in that film, we'll be assured of seeing no ice skating giant apes.