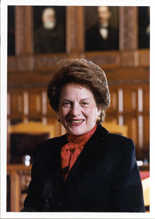 ALBANY—Judith Kaye, who retired as chief justice of the state's highest court last year, will now head the committee tasked with recruiting judges that was criticized then for not including a woman in its pool of applicants to replace her.
The Commission on Judicial Nomination announced today that Kaye was elected chair of the 11-member panel, and will preside over it until 2013. David Paterson named her to the Commission earlier this month.
"I am honored that Governor Paterson appointed me to the Commission and am now doubly honored to be chosen to serve as chair," Kaye said in a statement. "I look forward to working with my fellow commissioners to make sure that the Court of Appeals continues to be among the nation's most respected courts, and that the judges of the Court continue to reflect the best of New York's talented and diverse legal community."
The panel recruits and vets candidates for the Court of Appeals; they put forward a pool of applicants of which the governor selects one. Paterson and other statewide officials criticized the commission's work when the seven-judge pool they put forward to replace Kaye contained no women or Hispanics.
Kaye is the only sitting commissioner appointed by Paterson. She replaced John O'Mara, an appointee of George Pataki, whose term expired April 1. This is, however, Paterson's second appointment to the commission. He appointed Fred Brewington this fall, but he resigned in late April.