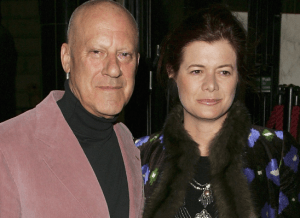 The global recession has not been good for architects, even deified Pritzker-winning ones: Lord Norman Foster, in Manhattan alone, has hit snags at his New York Public Library renovation, Aby Rosen's 980 Madison tower, Lexington Avenue's Shangri-La hotel, and ground zero's Tower 2. But the 73-year-old British architect and his wife, Lady Elena Foster, want a Manhattan apartment nevertheless.
According to a deed filed in city records on May 4, the couple just paid $7.2 million for a co-op at 912 Fifth Avenue, a building that brokers call "nice" but not particularly top-crust. Even though Lady Foster, who before their marriage had been a celebrity sex psychologist in Spain, is listed alone on the deed (with her title, of course), a source said the apartment is for the couple. Apparently, Lord Foster–whom Tom Wolfe, a critic of 980 Madison, called "quote-Lord-quote Norman" in an Observer interview last year–even appeared for a co-op board interview.
Considering his virtuosic taste in very beautiful windows, it's odd the architect chose an apartment that only has two rooms facing Central Park: According to the floor plans of a mirror-image apartment one floor down that's on the market with Stribling, the apartment is oddly long and thin, with about 2,725 square feet. "It only has good views from two rooms, the master bedroom and living room," a source said. "The rest of it is kind of internal, because it's not a corner building."
That Stribling listing came on the market at $7.1 million in February, was cut to $6.45 million in March, and lowered to $5.95 million just this week. Lord Foster and his wife spent $1.25 million more on their co-op, even though it hadn't been listed on the market.
According to the deed, their apartment was sold by the estate of Fred Strauss, an oil executive who died last year at age 94. Lord and Lady Foster originally came to the building because they had tried to buy a unit one floor up: "We actually started the process of doing it," said a source involved with that failed deal, "and the seller had a change of heart and took it off the market."
UPDATE, Tuesday 6:13 PM: A spokesperson for Foster + Partners said, "I have spoken to Lord Foster, who does not wish to make any comments."