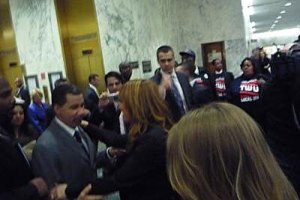 ALBANY—David Paterson showed up an hour late to an environmental rally in the Legislative Office Building, after holding legislative leaders for a closed-door session to discuss a bailout for the M.T.A.
There isn't quite a three-way agreement, but they said they're close.
"We are down to a few last details and determining which choices we're going to make, and we hope to address this issue as soon as possible, hopefully later today," Paterson told reporters. "I think that we're all in the same basic place, and actually, enough so that we're actually contemplating perhaps going a little further and, wishing not to expound on what that means, we have a lot to do."
He added: "There has been a difference of opinion on which bill addresses the [M.T.A. ]capital needs most."
Paterson has said in recent days that the immediate goal is to address the M.T.A.'s operating costs, and the legislature might have to deal with finding revenue to fund the capital plan later this year. Leaving a luncheon for the union DC37, Senate Majority Leader Malcolm Smith said, "We're working." He said that he expects to hold a vote on a bill tomorrow.
"We are going to have a plan that will provide some capital," he said. He gave no specific figure.
Leaving the same luncheon, Assembly Speaker Sheldon Silver said lawmakers "must" stop fare hikes and service cuts. "And I believe that we should address the capital needs so we do not turn back to the 70s, when the capital needs were ignored and the system deteriorated," he said.
It will take about $2 billion to do that, Silver estimated.
The plan Smith says been agreed upon within his conference—and his members have been the greatest stumbling block—would provide about $1.7 billion.