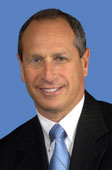 Elliot "Lee" Sander, the M.T.A.'s executive director since January 2007, is leaving the freshly bailed-out authority. According to a release from the M.T.A, he submitted his resignation to Governor Paterson today, effective May 22.
His departure has been the subject of some speculation for weeks, as the restructuring of the M.T.A. that accompanied its bailout—finally agreed upon last night—called for the consolidation of the executive director and chairman positions. Current chairman Dale Hemmerdinger, also, is widely expected to cede his post.
Sander's resignation does not appear to be of his own volition, given that Sander said just yesterday that he had no plans to leave. If so, the Paterson administration is pushing out a man who was widely viewed by both transit advocates and the construction industry as a highly competent transit professional—a policy wonk whose political skills were apparently not quite good enough.
The M.T.A.'s press release did not name a successor, but the name most widely discussed among transit advocates is Marc Shaw, a Paterson adviser who was the agency's executive director during the Pataki administration.
In a statement, Sander hailed a long list of accomplishments during his tenure and added:
"There is more work to be done, but I leave confident knowing the MTA is headed in the right direction. I am grateful to Governor Paterson and Governor Spitzer for this wonderful opportunity. I wish Governor Paterson the best of luck in choosing a successor who will build on the progress the MTA has made over the past two and a half years."