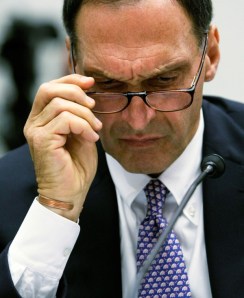 In January 2007, when Kathleen and Dick Fuld spent $21 million on a full-floor, 16-room, five-fireplace, four-bedroom co-op at 640 Park Avenue, their lives were beautiful.
Lehman Brothers had just announced it would be giving Mr. Fuld, its chief executive, $186 million in stock over the next decade, so it made sense that his new 6,200-square-foot apartment's floor plan would list four rooms for servants, another for the butler and one for the "second man."
Their lives are different. Lehman's September collapse brought down global finance, and Mr. Fuld's tight-mouthed, furrow-browed, dark-eyed face has become a raucously despised symbol of Wall Street and Park Avenue's failures.
But Mr. Fuld may not be on Park for much longer. According to two sources, his co-op is being quietly, noiselessly marketed by Kathryn Steinberg, a posh broker in the Edward Lee Cave division at Brown Harris Stevens. She did not return messages, but both sources said the price was around $32 million.
That's $11 million more than the couple paid less than two and a half years ago, though they may not be making much money on the apartment, bought from the estate of a 93-year-old philanthropist. "It's got great bones, but it needs tons of work," a broker told The Observer two years ago, estimating renovation costs at $10 million.
On the bright side, the Fulds bought a co-op with fireplaces in two bedrooms, the library, the 25-foot-long dining room, a 40-foot-long living room (where the mantel was French marble, according to an old listing with Kirk Henckels) and the entrance gallery, too. "When you've got five fireplaces," Mr. Henckels once said, "you might as well put one in a gallery."
None of the couple's properties in Connecticut, Florida, Vermont and Idaho have reportedly come on the market, but Manhattan brokers—blue-blooded and bloodthirsty—have been waiting for the co-op listing since September. "Everybody knows it, everybody's just waiting for it to come on," one said. "It's not brain surgery."
Ms. Steinberg and the couple have not officially listed the apartment, and it's not clear if they will. "They smartly think that the good buyers who could potentially want it are more or less people Kathy can find on her own," one agent said. "Why have the press if you can avoid it? The guy has been ripped to shreds."
In November, when Lehman announced Mr. Fuld would be terminated without severance, he and his wife created a stir by selling off 16 postwar drawings, which went below Christie's $15 million low estimate. In January, after Mr. Fuld transferred the family's waterfront mansion on Florida's Jupiter Island to his wife, The Times wondered if he had "fears of investor lawsuits or a possible bankruptcy." That month, the couple's 20-something daughter put her Manhattan apartment on the market for $12.95 million, cutting the price two months later, according to reports, to just a slither above the $9.75 million she and her husband had paid.
Conspicuous selling is very out, along with conspicuous consumption: In December, Ms. Fuld reportedly asked for a plain white bag at the iconically orange Madison Avenue Hermès boutique.
mabelson@observer.com