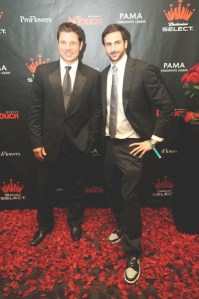 Impresario Mike Satsky has what he calls a "LeBron James attitude" when it comes to his Lily Pond nightclub in East Hampton.
"Our product and what we bring to the table we feel is extremely valuable and we feel like we're the only ones doing it, even though there are other people in the business, just like there are other basketball players who are incredible," Mr. Satsky told the Daily Transom last week.
The swanky 7,000-square-foot party spot, which had Lauren Conrad of MTV's The Hills helicoptered in for a photo op last summer, opened for its sophomore season over Memorial Day weekend, with fashionable New York Rangers forward Sean Avery reportedly manning the door on Saturday night, May 23.

Despite a sluggish world economic situation that has even the preferred summer playground of the rich and famous feeling the pinch, Mr. Satsky tried to sound optimistic about the uncertain season ahead.
"I feel this summer could be even better than last summer," he boldly predicted. "It could be something very advantageous to us, the recession. A lot of people that go to Europe may not go to Europe this year. So maybe they'll go to the Hamptons and that's where they're going to spend their extra dollars."

What's new at Lily Pond this summer? "Here's what's new—overall, nothing," Mr. Satsky admitted. Just a few tweaks. "The sound is upgraded, the seating is upgraded, the cabanas are upgraded," he said.

Heck, even the cocktail waitresses are upgraded. "My waitresses are hands-down the most beautiful waitress staff in the Hamptons," he boasted. "I handpicked them myself! And they go through a rigorous routine to do so," he added, laughing. "That's the cherry on top! They're fire."
Mr. Satsky, 31, can aggrandize with the best of them, his penchant for promotion proven by a plethora of Page Six mentions, dating back to his days at Stereo, the now-defunct West Chelsea spot he once dubbed the "Yankee Stadium for DJs."
Popular with celebrities, as well as police, Stereo unceremoniously closed in January 2008, with Mr. Satsky and his former business partner at the club, Barry Mullineaux, each going their separate ways.
Yet, its legacy lives on, if only in Mr. Satsky's vision for the future.
"When I opened Stereo in 2005, it was such a different type of venue because our music program, the West Coast style of hip-hop mixed with rock 'n' roll, was not really something that was played in the clubs regularly," Mr. Satsky said.
"The DJ AM–style of deejaying," he went on, referring to the renowned turntablist Adam Goldstein, "was not considered normal for New York City. It was the Mark Ronson era. He was the greatest and the godfather. Mark Ronson would play a record and then he would go into another record and his timing and execution was impeccable. That was the standard in New York City. Then AM came in and did this whole mash-up, scratching situation, and at Stereo, that's what we showcased every second of every night. And then every other venue bit that formula. And now all the venues today still use that formula."