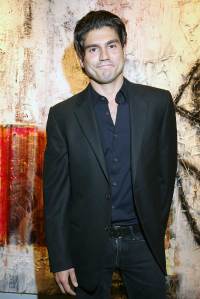 For six years, the New York–born and Los Angeles–based artist Andrew Levitas has been chemically and meticulously curing digitally printed photographs with hand-cut, scuffed, scraped and specially designed pieces of steel—a dramatic departure from traditional photography.
In 2007, Mr. Levitas, who is 31, mounted a critically acclaimed exhibit that combined canvas, paint and organic materials from his own backyard in Hollywood—branches, leaves, even bamboo. He is also a writer, producer and filmmaker. At an early age, the comely artist, who attended Dalton and N.Y.U., found success with acting, playing roles on shows like The Nanny and Party of Five, before turning to a more inner, contemplative visual medium. On May 9, Mr. Levitas will finally bring his art home when he and the Dactyl Foundation host his first New York City solo exhibition, with the deceptively simple title "Works on Canvas and Steel."
About 15 of Mr. Levitas' favorite pieces will be on display. "The show is a reflection of the last 10 years of my life … my 20s," he said—his successes, his failures, his travels, his relationships, etc. … basically stripping himself naked. "My conversations with my work are the sorts that people typically reserve for their therapists," Mr. Levitas said. "Whatever has occurred, art has been there for me to express what is going on for me." Hey, it beats Facebook!
Eight steel-based photographs from Africa depict an immersion by the artist into the culture, humanity and environment of the subjects, revealing his innate appreciation for the variety of cultures the world has to offer. Mr. Levitas' technique almost seems like a sophisticated derivation of finger-painting, exposing his boyish sense of love for what he does, and a broader love for life.
His steel photos are currently selling for $20,000 and his paintings go for between $40,000 and $55,000. In 2008, he became one of the first American artists ever to be included in the Société Nationale des Beaux-Arts, a prestigious art community that holds an exhibit once a year at the Louvre. Members and exhibitors have included Charles-François Daubigny, Laura Fredducci, Gustave Doré and Édouard Manet. "There is no real classification of my artistic style. You can just call it Andrewism," Mr. Levitas said. Well, whatever it is called, it's working.