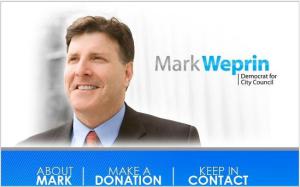 Assemblyman Mark Weprin, who is running for the City Council seat being vacated by his brother, David, is up with a campaign web site.
Weprin is the front-runner for the seat, and if he's elected, it would add to the Council one critic of Michael Bloomberg's education policy. In the past, Weprin and Bloomberg clashed over the reliance on testing in public schools.
Weprin's site also includes not one, but two photos of the State Senator in the area, Frank Padavan, who is a popular figure among residents. But he's also a Republican that Democrats desperately want to unseat.